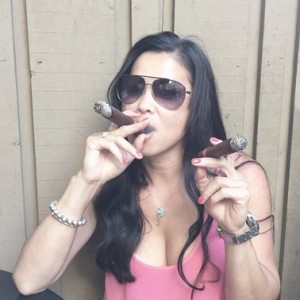 Meet Trang Hamm, a sizzlin' sister-of-the-leaf (#sotl) from Marina del Rey, California. Trang was born in Saigon, Vietnam but fled from the war-torn country to America as a war refugee. She started her life in America on welfare but has since earned a Master's Degree and runs her own social media marketing company, (www.tranghamm.com).
Trang is a stunning gal who has been smoking cigars since college. Today she usually smokes cigars on the golf course or at other social settings, but never alone.
"I smoked my first cigar in college at Gonzaga University during a raging kegger," explained Trang. "I felt relaxed and it probably took away the bad taste of the low budget beer."
Trang doesn't usually hang out at cigar lounges but has made a few appearances with some of her clients. Her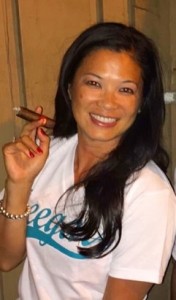 favorite cigar is the Daniel Marshall Red Label torpedo because it is "smooth and well-aged."
"One of my favorite places to smoke cigars is actually at Sunset Sundays in Manhattan Beach, a bi-monthly event put on by friends at TG3 Entertainment. They spin old school R & B/Hip Hop and there is a small smoking patio where lovers of the leaf congregate," said Trang. "The vibe is nice, people are beautiful, music is good and the cigars are on point."
Like many cigar smokers, Trang likes to pair her cigars with alcohol. Her poison is red wine.
"I prefer red wine with cigars," Trang revealed. "My favorites come from the Columbia Valley in Washington; however, I took a trip to Italy last year and became a fan of their Chiantis. I had to bring some back to the U.S. If I get a hot date soon, I might break one open."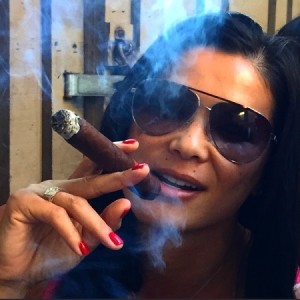 It shouldn't be hard for this smokin' beauty to find a hot date because she is absolutely stunning. From her long legs to her gorgeous face, Trang adds plenty of sex appeal to the cigar industry. However, she is too gracious to realize how sexy she really is.
"That is a funny question to me. I am a self-proclaimed nerd," Trang confessed. "I would prefer to be known for my brains, intellect and as that cool female to chill with more than anything else." I don't feel like I make smoking sexy, but I know I make it fun."
Outside of cigars and work, Trang is an avid traveler, fitness fanatic and sports enthusiast. Last year this wanderlust traveled to 20 cities in seven different countries including, Greece, Italy, Ireland, Africa, Thailand, Vietnam and Japan.
When grounded, Trang spends most of her time running, biking boxing and playing golf. Her favorite sports are college and NFL football, NBA and NCAA basketball and PGA golf.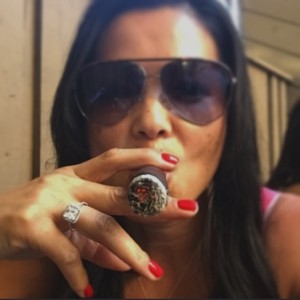 Still not impressed? There is more. This altruistic heartthrob has a heart of gold. She volunteers countless hours collecting toiletries and distributing life's essentials to the homeless.
"Some Wednesdays I can be found on Skid Row feeding, clothing and praying with the homeless with an organization called My Friends House LA/We Feed the Hungry. We distribute clothes and food from 12-2 pm on a weekly basis," said Trang. "I feel like I live a great life, I'm blessed and it is important to give back in any way we can for those less fortunate."
Trang certainly deserves to be this week's Sizzlin' Sunday Cigar Babe. She is a courageous gal who is gorgeous, highly educated, philanthropic, and has an affinity for cigars.