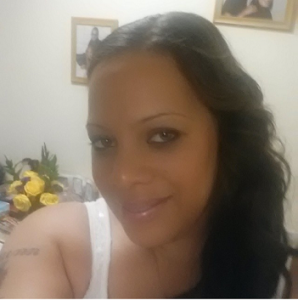 Meet Taesha Christmas, a 35-year-old sister-of-the-leaf (#SOTL) from Brooklyn, New York. This beautiful #SOTL has been smoking cigars for the past three years. Her adoration for the leaf stems from her ex-boyfriend who she credits for introducing her to the enchanted world of cigars.
"I have been smoking cigars for three years and the person who put me in the lifestyle was my ex," said Taesha. "Now I am hooked."
Taesha wasn't very welcoming to the idea at first because it wasn't "very ladylike", but the more he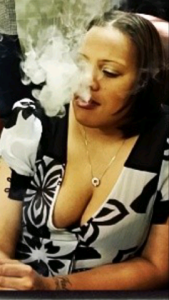 offered, the more desirous she became. Eventually Taesha gave in to temptation and succumbed to her desires.
"The more he came around with sticks I would try and eventually he was bringing me my own sticks to smoke,' she explained. "For a while I wouldn't smoke outside in front of people because I just didn't think it was ladylike, but eventually we started going out to different lounges and I came out of my comfort zone."
Today, Taesha loves hanging out in different cigar lounges because it gives her a chance to meet different people, but, like most cigar smokers, Taesha has a favorite haunt that she frequents often.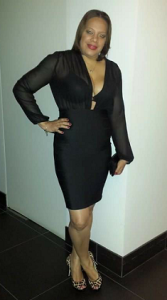 "My favorite lounge is Sanj's Smoke Shop in Bloomfield, New Jersey," she said. "I love going there because the place is so welcoming and comfortable.  The people are great and I love talking with Sanj."
Taesha enjoys pairing her cigars with different drinks especially when she wants to get her "sexy on."
"If I am out and deciding to get my sexy on, I will pair my cigars with some good Scotch or some whiskey, but my favorite drink of choice to pair my cigars with, some may find strange, is Grey Goose," Taesha noted.
However, she does no always drink and smoke.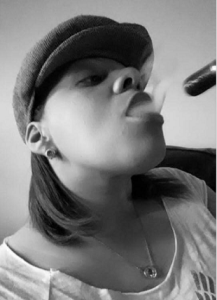 "I can smoke a full-bodied cigar with nothing and enjoy it or I can wake up in the morning and smoke a cigar with a cup of tea," she explained. "Sometimes I don't have to drink with my cigars."
Taesha posts a lot of pictures on her social media accounts and many people have left positive comments about how "fun it looks". If the truth be told, it is SHE who makes it look like so much fun. Taesha is very easy on the eyes and is often a pleasant treat when she patronizes local lounges. Her sex appeal is undeniable in the testosterone-filled cigar rooms.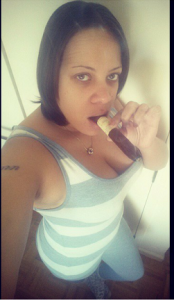 "I feel that I add sex appeal to this lifestyle. We are in a world where men dominate and now we are coming out and coming strong," boasted Taesha. "When men see me smoking a full-bodied cigar and I am enjoying it, they are impressed."
Taesha went on to say, "I have had, and I know a lot of women get this, men come up to us saying that they love to see women smoking cigars and they think it is so sexy."
There is no doubt that this sexy #SOTL from Brooklyn loves her new lifestyle.  It is a burning fire deep inside that she continues to fuel.
"I tell people that I have fun smoking cigars but it is also a lifestyle of mine that you have to be ready to accept," said Taesha.