This week's Sizzlin' Sunday Cigar Girl is no ordinary sister-of-the-leaf. This week ultimatecigarparty.com has the pleasure to feature the ONE and only Karen Berger from Daytona Beach, Florida. Karen has become a legendary figure in the cigar industry and continues to produce some of the tastiest cigars on the market.
 "I smoke cigars every day and I love blending and manufacturing cigars," said Karen.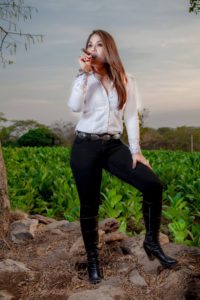 Born and raised in Estelí, Nicaragua, Karen is the owner and blender of two major cigar brands – K by Karen Berger and Don KIKI Cigars. Plus, she owns and operates the world-renowned Don KIKI Cigar Superstore in Daytona Beach.
 Karen produces her cigars at her cigar factory, Tabacalera Esteli in Estelí, Nicaragua using her own tobacco that she grows on her tobacco farm also in Estelí.
 Karen has been smoking cigars for the past 15 years. She has smoked many different brands and enjoy many different blends, but, of course, her favorite cigars are some of her very own.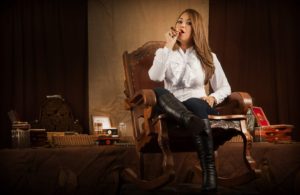 "My favorite cigars are Don KIKI Brown Label and K by Karen Berger maduro," she announced. "I am a full-bodied smoker and I like toro size cigars."
Like most cigar smokers, Karen loves to pair her sticks with tasty spirits.
 "My favorite drink to pair with cigars is Flor de Cana 25-Year slow aged rum," she stated.
 There is no doubt that Karen is a smokin' hot gal who brings plenty of sex appeal to the cigar industry. She is absolutely gorgeous, as close to perfect as one can get, especially for us drooling cigar smokers. However, she is too humble to admit her beauty.
 "I would like to believe that my appeal to the cigar industry is when my friends and customers smoke my cigars and experience the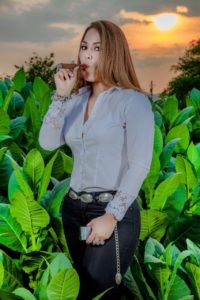 most amazing taste, quality and consistency associated with my image," she revealed. "All my passion is in the creation of great blends and great cigars."
 If you are ever in Daytona Beach, Florida or any of the surrounding areas, perhaps you can join Karen for a smoke in her favorite Florida lounge, Don KIKI Cigars Superstore located at 1508 S. Atlantic Avenue Daytona Beach, FL 32118 or you can visit her online at www.donkikicigar.com.
 It is quite an honor to have the opportunity to feature the legendary Karen Berger this week as our Sizzlin' Sunday Cigar Girl. She is a beautiful woman who has a sincere passion for cigars. Her knowledge, talent and unyielding love affair with cigars are appreciated.
 "I am very proud to belong to the cigar industry as many beautiful ladies are. I have very good examples to follow. Every day I learn something new about my passion because of my love for the leaf and strength to keep the Don KIKI legacy alive."