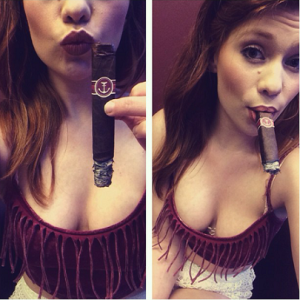 Meet Sara Ford, a sexy 21-year-old Dallas transplant now living on Long Island, NY.  This sensual #SOTL is a youngin' in the industry, popping her cherry just seven months ago.
"I've only been smoking cigars for about seven months," said Sara. "I smoked my first cigar when I started hanging out at Flame Fine Cigars with my best friend, Rob."
Less than a year later, Sara is now a "regular smoker." She feels it is a, "nice, relaxing hobby" where she can pamper herself after a hard day's work.
This dazzlin' dame is a frequent patron at Flame Fine Cigars in Port Jefferson, NY where she smokes, drinks and laughs. She has smoked many different cigars since her foray into the enchanted world of cigars, but tends to lean most toward the Rocky Patel Mexican Prohibition and Camacho Ecuador.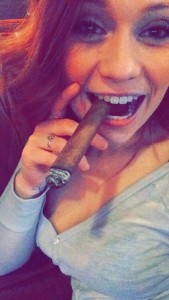 "My favorite blends are definitely spicy, full-bodied smokes and my favorite size is the toro," explained Sara. "The Rocky Patel and Camacho both have such a nice full-body and perfect spice to them."
Being a "bourbon and whiskey girl", Sara tends to pair her cigars with the hard stuff. Angels Envy bourbon is her go-to drink when pairing with a cigar.
Sara Ford is one of those gorgeous girls whose image can easily remain engraved in a man's memory upon meeting. Her appearance is absolutely striking. She is a highly desirable redhead who flaunts the most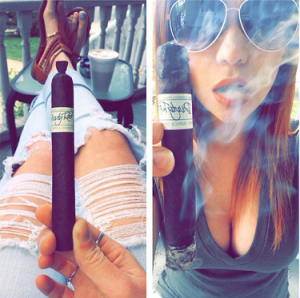 adorable face accentuated by beautiful, bright green eyes – An exotic combination to say the least.
There is no doubt that this Dallas import adds plenty of sex appeal to the New York cigar industry.
"I definitely feel as though I add sex appeal to the industry," Sara boasted. "I am a younger girl who enjoys the hobby with red hair, bright green eyes and a smile that no one can forget."
Sara went on to say, "When guys see me smoking cigars they are always very shocked because it is not usually expected. I feel as though it gives me an edge that most girls don't have."
When not smoking cigars, Sara indulges in her other hobbies, in which she is passionate about.
"Tattoos, cigars, fashion and baking are my passions," she noted. "My life goal is to someday own my own bakery."