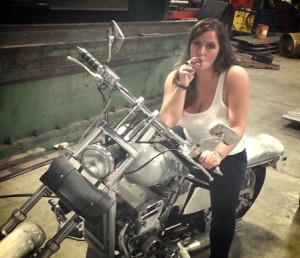 Meet Nicole Origas, a sexy 37-year-old sister of the leaf (SOTL), who absolutely loves smoking cigars. She is originally from a small, snowy town in Minnesota but currently lives in St. Louis, Missouri. She is a well-traveled dame who fills her days with music, classic American-made muscle cars and fine cigars.
"I have had an affinity for good ol' American muscle cars since I was a kid, explained Nicole. "Growing up around a '69 GTO Judge really molds your idea what a muscle car is. Nothing compares to my '67 Mustang. My heart picks up a beat and I can't stop smiling.
Nicole's journey into the enchanted world of cigars began 15 years ago during one of her many voyages. Fast Forward to 2015 and you will now find an avid smoker whose passion has grown immensely. Today she smokes about once a week, give or take.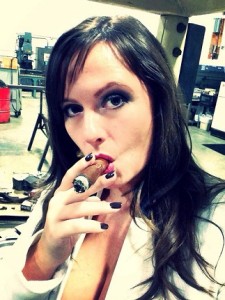 "I have been smoking cigars since I took a trip to Atlantic City, NJ back when I stayed on the east coast back in 2000," Nicole boasted. "We were playing craps and a close friend of mine shared his cigar with me while we were rolling dice."
Nicole added, "From there I have been drawn in by the allure of cigars and the intimacy of the cigar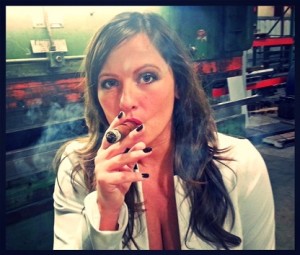 industry. I have recently returned to exploring cigars after a Hiatus and been pleased to find that there is much to learn, many new cigars to try and lots of interesting stories to hear."
Smoking cigars has become more than just a hobby to Nicole but more of a passion and a way of sharing memories and stories. She often chooses her smoke of the day for its back story and evolution into the market.
"There are so many great cigars out there, but the thing that sets them apart for me is the people who are passionate about them," she said. "The ones who can tell a great story about how or why the cigar was made, why it was made or who made it, not just the facts but the actual story behind the cigar."
Atlantic City, New Jersey is not the only place to which she has traveled to enjoy a fine cigar. Some of her favorite destinations are Hawaii, Jamaica, Las Vegas, Memphis, Phoenix, Chicago, and Manhattan.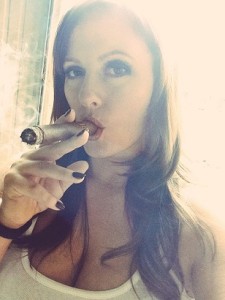 "It is my dream to be able to travel and enjoy cigars all over the world," said Nicole.
It is hard to keep this smokin' beauty grounded but an intimate cigar lounge should be the first place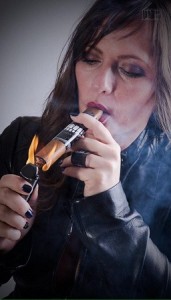 that you look.
"I enjoy cigar lounges very much. I am new to this city but I enjoy exploring shops, lounges and bars in the area," Nicole noted.  "So far I have been very impressed by Hill Cigar Company. I feel like a kind in a candy shop in their humidor and they have a wonderfully intimate smoking lounge that feels like home, but better."
Like most cigar smokers, this beautiful beau loves to pair her smokes with a fine cocktail. Her usual drink of choice is a Grey Goose Vodka and tonic but she also enjoys a good Shiraz or Carmenere. However, when Nicole wants to savor the true flavors of the cigar, she drinks water.
"I have found that if I am really focusing on tasting the cigar, I like to stick with water just so I know if I can love the cigar all on its own," said Nicole.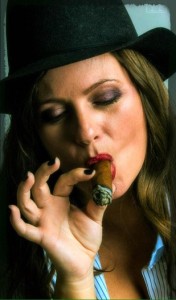 Nicole is an amorous flame who brings plenty of sex appeal to the cigar
industry. Together her adventurous persona and alluring physique create a vibe that is irresistible and magnetic. But this heartthrob is as humble as the day is long.
"Any beautiful woman smoking a cigar brings sexual attention to the industry. There is something magnetic about her because she is unique and special," Nicole explained. "Most people are very passionate about cigars and it is only natural that there is a sexual appeal to cigar smoking. The fact that I am a woman who loves something that men love, piques their interest and allows us to connect over our shared passion."
There is no doubt that Nicole deserves to be this week's Sizzlin' Sunday Cigar Babe. You can follow her on Twitter @truthcomingout or on Instagram @thetruthcomingout
"Cigars are so versatile…a cigar will congratulate you, a cigar will console you, a cigar will calm you. Cigars connect us with ourselves and others," Nicole said.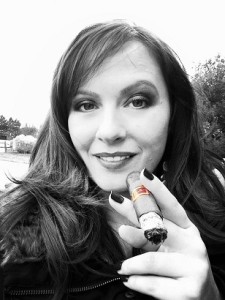 "I've had an affinity for good ol' American muscle since I was a kid"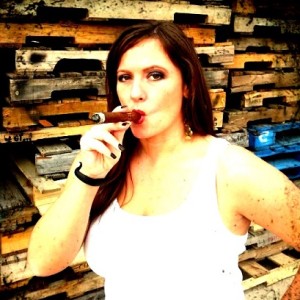 "I have been drawn in by the allure of cigars and the intimacy of the industry."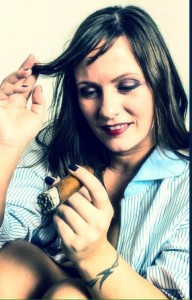 "Any beautiful woman smoking a cigar brings sexual attention to the industry."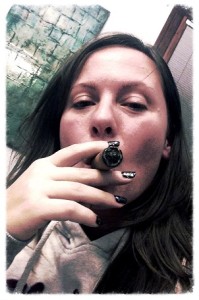 "The fact that I am a woman who loves something that men love, piques their interest and allows us to connect over our shared passion."