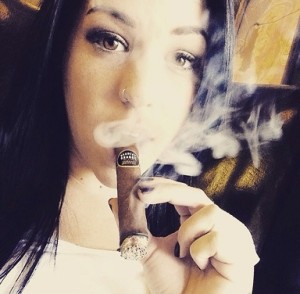 Meet Madison Story, a Sizzlin' sister-of-the-leaf (#SOTL) from Phoenix, Arizona. 'Sug', as she is referred to around Baxter's Cigars, where she is employed as the store's manager, is a sexy 22-year-old dame who ensconces herself in the lounge six to seven days a week.
"I consider Baxter's Cigars my home more than anything," said Madison. "I am here normally six to seven days a week, majority of those scheduled, but I am here by choice even when I am not working."
Madison started smoking cigars about a year or so ago. She was a frequent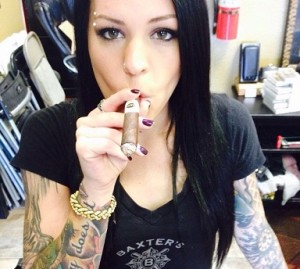 customer at Baxter's Cigars who regularly smoked the Acid by Drew Estate. She was drawn to Baxter's because of the "funny, off-beat and welcoming atmosphere" of the lounge. Once she began working there her affinity for the stick grew leaps and bounds. 'Sug' now smokes from two to four cigars a day, depending on how much time she spends at the shop.
"Cigars became a huge interest of mine and I found a passion and love for the industry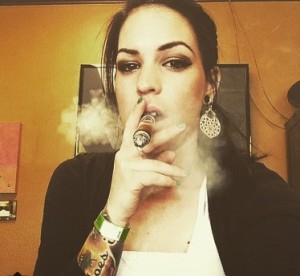 that I didn't really know existed," explained Madison.
It is tough for someone who smokes so many quality cigars to pin point a favorite, but Madison does have a couple 'go-to' sticks she likes to "fall back on."
"I will almost always fall back to My Father Cigars. Their cigars are amazing all across the board, but I have a special love for the Don Pepin Blue Label. Classic Cuban, and the JJ are pretty damn good as well," boasted Madison.
She went on to say, "Basically any cigar with Nicaraguan or a mix with Nicaraguan Tobacco is going to entice me the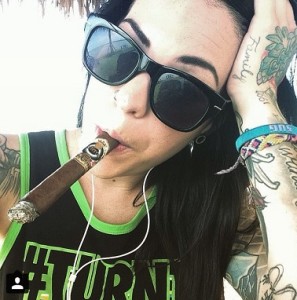 most! I love spice to a cigar, if it's peppery and has some leather and or earthy notes to it, I'm more than likely sold!"
As a former bartender, Madison surely knows her alcohol as well. She seems to enjoy whiskey or bourbon with her sticks but believes a vodka drink is more appropriate at times.
"If I am drinking alcohol with my cigar, I normally feel as though whiskey or bourbon makes a good mixture. If it is a very strong cigar, a dulled-out vodka based drink has always seemed to do the trick," she explained.
Sex appeal? Yes! 'Sug' certainly adds plenty of sex appeal to the male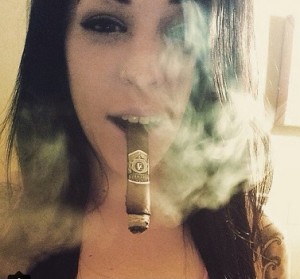 dominated industry. However, Madison is too humble to realize what she offers.
"I've never been one to personally see my name and 'sex appeal' in the same sentence due to my personality and the way I am able to relate to the guys," revealed Madison. "However, you realize the appeal the longer you are in the industry and the more you talk to the costumers. I do believe having a female in the industry, especially one who has a general love and passion for cigars, can be very beneficial."