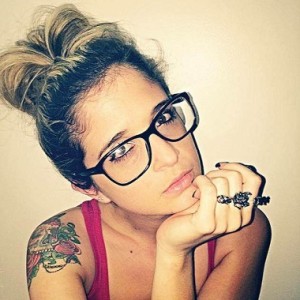 Meet Kelly Constantino, a gorgeous 25-year-old sister-of-the-leaf (#SOTL) from San Diego, California. This Sizzlin' SOTL possesses all the qualities of a fun-loving gal who appreciates the finer aspects of life and her vast array of personal interests surely make her unique.
"I love to paint, I'm really big into the horror scene, love zombies and gore, love to go shooting, love tattoos, all things Disney and my husband and I collect craft beer," noted Kelly.
How many men can say that their wife smokes cigars, drinks craft beer, gambles in Las Vegas, loves tattoos and has a favorite gun (AT-15)?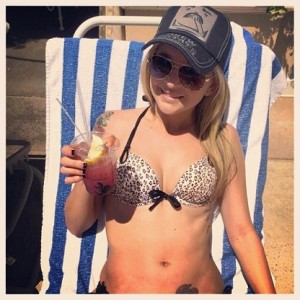 Kelly's husband introduced her to cigars when they started dating more than two years ago and now she smokes at least twice a week.
"I am a huge Drew Estate fan. It is definitely my favorite brand," Kelly commented. "My go-to smokes are Acids or Java, more specifically Blondie Belicoso or Kuba Kuba; however, I also like medium to full-bodied cigars paired with a good coffee or wine."
Kelly and her husband frequent area cigar lounges just about every Saturday. Her favorite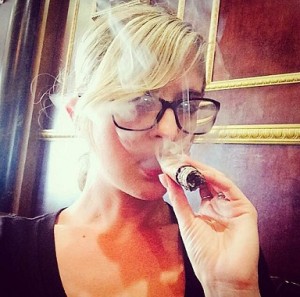 haunt is Churchill's Cigar and Wine Bar in San Diego. They go to "unwind" with a cigar and drink while watching MMA fights with their favorite BOTL (Brother-of-the-leaf) Mark.
Her personal interests are diverse and her love affair with cigars is intriguing, but it's her sex appeal that sizzles.
"I like to think I add a bit of sex appeal to the industry," Kelly boasted. "Sometimes being young and attractive and smoking a cigar takes people by surprise, but that just adds to the fun of it. I'm definitely a classy woman who knows how to have a good time."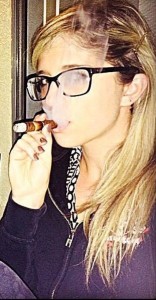 There is no doubt that Kelly's adorable face and rockin' body grab the attention of the fellas, but her worth runs much deeper than her physical beauty.  In her spare time she volunteers with kids and adults who suffer with developmental disabilities. She is working toward advancing her education to further assist the developmentally disabled acclimate into the 'real world'.
"I'd like to think that I was raised with a good head on my shoulders, a strong sense of work ethic and creativity," explained Kelly. "I'd eventually like to study up on the causes and effects of Post-Traumatic Stress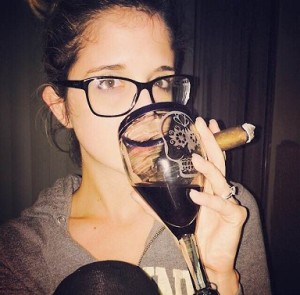 Syndrome (PTSD)."
It is worth noting that Kelly comes from a family with a very strong military background.
"Both of my parents were in the Navy, my brother currently serves and my husband is currently an active duty Marine," said Kelly.
There is no doubt that Kelly deserves to be this week's Sizzlin' Sunday Cigar Babe. Her zest for life, adoration for cigars, and smokin' hot appearance are undeniable.