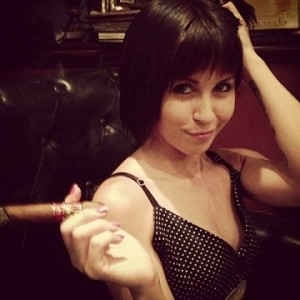 Meet Jeny Rosado, a sizzlin' 28-year-old sister-of-the-leaf from New York City. Jeny is a sexy dame of Puerto Rican heritage who absolutely loves smoking cigars.  Her favorite cigars are the Montecristo and Nat Sherman brands paired with espresso coffee.
"I love to smoke a cigar in the mornings with my coffee and right before I go to sleep," explained Jeny.
Jeny's favorite cigar lounges are Papa Juan's Cigar Club in Harlem and Havana Dreams Lounge in Woodhaven, Queens. When not ensconced in her favorite lounge, this smokin' beauty works as a chef in a Manhattan restaurant.