Meet Francesca, a sizzlin' sister-of-the-leaf(#sotl) from New Jersey. Francesca is a smokin' hot dame who has been smoking cigars recreationally for the past year or so.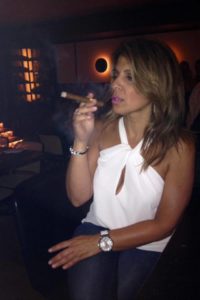 She usually smokes mild blends when she relaxes alongside her beau with Arturo Fuente and Monticristo among her favorites.  Francesca even dabbles in flavored cigars from time to time.
Like most cigar smokers, this smokin' beauty never smokes alone.
She loves to pair her cigars with a fine wine or martini.
Francesca undoubtedly deserves to be this week's Sizzlin' Sunday Cigar Babe of the Week. She is a beautiful woman who loves smoking cigars.