Meet Yvette, a sizzlin' 47-year-old sister-of-the-leaf (#sotl) from New York City. Yvette is new to the cigar lifestyle but has already begun to appreciate the culture that surrounds the mighty leaf.
This sexy New York dame smokes about once a week. Her favorite cigar is the Amos de Santiago by Consuelo Gomez.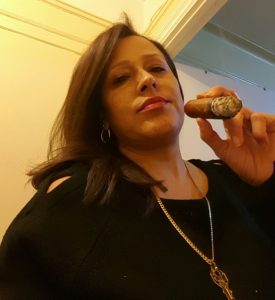 This smokin' beauty loves to frequent cigar lounges. She finds the atmosphere to be a positive, inspiring outlet from the outside world.
"Victor from CityCigarLife Magazine introduced me to different cigar brands and lounges," Yvette noted. "Lounges offer such a positive vibe, giving you hope to a lot of things in your personal life that you can change."
Like most cigar smokers, Yvette likes to pair her smokes with an adult beverage. Her poison of choice is Corona beer.
Despite Yvette's reticence to admit that she offers the cigar industry sex appeal, gentlemen beg to differ.
"I don't feel like I add sex appeal," said Yvette.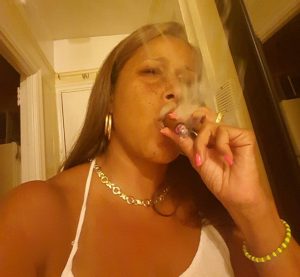 Her stunning face, succulent lips and inviting eyes are near impossible to resist. However, it's her humble persona that makes her that much sexier.
When not smoking cigars, this luscious lady-of-the-leaf enjoys listening to music and basking on the beach.
Yvette undoubtedly deserves to be this week's Sizzlin' Sunday Cigar Girl. She is a gorgeous gal who loves the leaf appreciates the value of its culture.