Meet Yanira, a sizzlin' 42-year-old sister-of-the-leaf (#SOTL) from New Jersey. Yanira was born in Santo Domingo on the Dominican Republic and has been smoking cigars socially since the 1990s.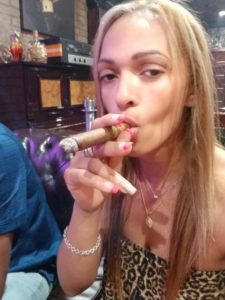 "I smoke twice monthly or every other weekend," said Yanira.
With more than twenty years of experience smoking cigars, this Dominican heartthrob's palate has become well refined. She enjoys some of the industry's finest sticks.
"My favorite cigars are Arturo Fuente and Cohiba because I enjoy the taste," revealed Yanira. "I also enjoy Romeo and Juliet cigars as well."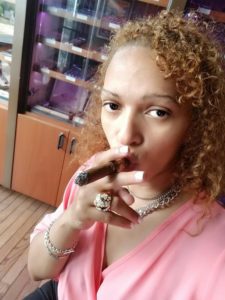 There is no doubt that Yanira adds plenty of sex appeal to the cigar industry. She is a stunning woman with a beautiful face and perfect body. Her sensuality is a welcomed treat.
"I like to look and dress very sexy and sensual," she expressed.
In addition to smoking cigars, Yanira loves watching baseball (Yankees) and dancing Salsa.
Yanira definitely deserves to be this week's Sizzlin' Sunday Cigar Girl. She is a gorgeous gal with a rockin' body and an illuminating smile. Her passion for cigars paired with her sensuality makes her the perfect woman in the eyes of every man.
"I enjoy smoking cigars because it relaxes me and makes me feel unique, strong and attractive.