Meet Taylor Rothwell, a gorgeous 23-year-old model from Ridge, Maryland. This sizzlin' sensation is a beautiful sister-of-the-leaf (#sotl) who has been smoking cigars for the past two years.
"A close friend brought me to a cigar shop in Baltimore, MD called "Dan's" and had me try a Java," explained Taylor. "It was different and I loved the atmosphere there."
Taylor spends most of her free time outdoors. Whether it be cheering on her family at the racetrack or helping her grandfather at his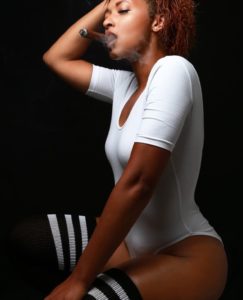 campground, she is always looking for an excuse to get out of the house.
"Just about every man in my family races motorcycles," said Taylor. "I love being outdoors. Anything that will get me out of the house and keep me active, I will definitely take part in."
Cigars were a perfect fit. However, it took Taylor two months before trying her second cigar after her initial foray.
"About two months later I went to another cigar shop (by myself) called Tinderbox in Waldorf, MD and got another Java," Taylor revealed. "I think I've been hooked ever since."
Today Taylor smokes with the big dogs. She has ditched her flavor infused Java cigars for a more potent notoriety like Padron.
"Currently I love anything by Padron. I'm pretty much a full-body type of gal."
When it comes to pairing her smoke with a drink, well, it usually comes down to one choice – Scotch.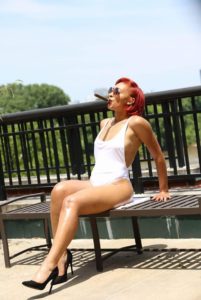 "I usually go for Dewars or just about anything Scotch," Taylor noted. "My favorite drink is called a Rusty Nail. Anytime I go to my hangout spot, Havana 59 in Richmond, VA, they don't even need to ask."
As our tagline reads, "Cigars, Scotch and Sex," this smokin' beauty fits into our mantra perfectly. Her sex appeal is off the charts. Taylor Rothwell drips with sex appeal. She has a rockin' body and a face so beautiful it can melt any man's heart.
"I do feel as though I add sex appeal," boasted Taylor. "There aren't too many black women my age that smoke cigars. Or, women in general that smoke full body cigars like myself."
She added, "I love walking into a cigar lounge and sitting there with all eyes on me."
Some of Taylor's favorite haunts are Havana 59 in Richmond, Virginia and Cigars 210 in Fort Washington, Maryland.
"The "regulars" that come to the "smoking side"  at Havana 59 are genuine! They are some of the most caring/ crazy/ and funny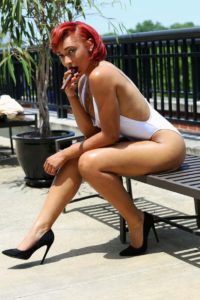 individuals I've ever met!" said Taylor.
Having an event in the Maryland/DC area? Perhaps Taylor can help.
"Since I do model, and most of my images are of cigars, I like to host cigar events, as well as work in a cigar shop for a Friday or Saturday night as the "special guest."
There is no doubt that Taylor deserves to be this week's Sizzlin' Sunday Cigar Girl of the week. She is the poster child of Ultimatecigarparty.com – She is smokin' hot, loves cigars and drinks plenty of Scotch.