Meet Tabitha, a sizzlin' 30-year-old sister-of-the-leaf (#SOTL) from Virginia. Tabitha loves riding horses, traveling, and of course, smoking cigars.
"I smoke a few times a week," expressed Tabitha. "My daddy is a tobacco farmer so I have been raised around tobacco my whole life."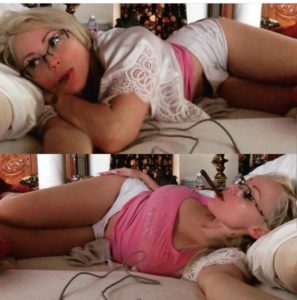 Despite Tabitha's long-standing relationship with tobacco, she has been only been smoking cigars for a little more than a year.
"I had smoked before but not as frequently as I do now. My favorite cigar is the Cornelius and Anthony Cornelius Lonsdale," she revealed.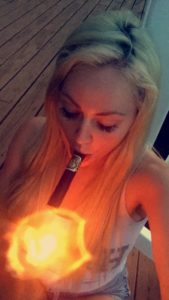 Tabitha loves to pair her sticks with coffee.
"I love different coffees with different cigars," she explained. "I love how different drinks can bring out a whole new flavor that wasn't as noticeable. My favorite thing about cigars is the complexity in the different flavors."
There is no doubt that Tabitha adds plenty of sex appeal to the cigar industry. Her stunning body, gorgeous face and inviting eyes are damn near irresistible. This dazzling dame is a welcomed treat in an otherwise male-dominated industry.
"The cigar industry is still predominantly male so good looking women and nice cars have always seemed to go with it. I just feel like now instead of being the pretty girl on his arm, I'm the pretty girl smoking my own cigar," stated Tabitha.  "I hope if I've added anything it's that women smoke cigars too, not little flavored cigars, but real premium cigars."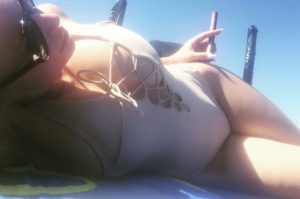 Tabitha definitely deserves to be this week's Sizzlin' Sunday Cigar Girl. She is drop-dead gorgeous, the daughter of a tobacco farmer and absolutely loves the culture surrounding the leaf.
"One of my favorite things about the cigar industry is the people. There are so many different people from all walks of life, and we all connect over our love of cigars and that is just really cool to me. The cigar people are some of the nicest least judgmental people I've ever met and I just love that."
Tabitha is the quintessential "farmer's daughter."