Meet Sunny Léon, a sizzlin' 40-year-old sister-of-the-leaf (#SOTL) from Tuscon, Arizona. Originally from a small town in Montana, this hot mom of four emerged on the cigar scene with gusto after denying her urges for years.

Her amorous affair with the leaf began after eventually succumbing to her husband's regular titillations.

"My husband actually got me interested in smoking cigars," said Sunny. "When we first met he would regularly smoke…I finally tried my first cigar and found that I enjoyed it. And since then, I have smoked quite a few cigars."

Sunny now smokes three to four cigars a week. She believes, "It's a relaxing indulgence that my husband and I like to enjoy on a regular basis."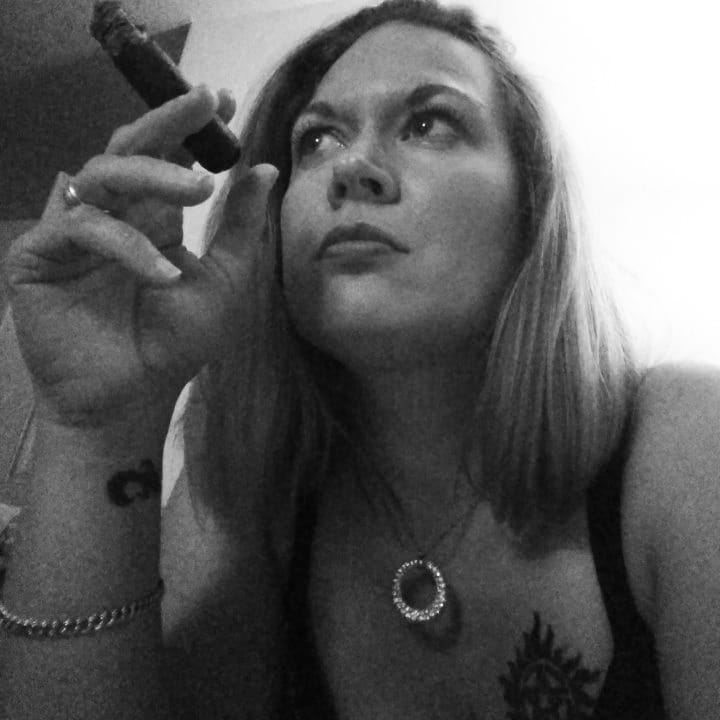 Sunny usually pairs her smokes with a fine "cuppa Joe" but is known to dabble in the hard stuff from time to time.

"I also like to pair with a little Tennessee whiskey on occasion," she revealed.

Like many cigar smokers, this smokin' beauty's cigar preferences change depending on her mood, but the My Father La Duena and Oliva Serie G have been long-time staples in her regular rotation. Also, when she is in the mood for an infused stick, the Acid Blondie or Kuba Kuba usually fit the bill.

"For the most part I tend to go for maduro wrappers," she explained. "I find the torpedo or parejo shape to work best for me."

Sunny definitely brings plenty of sex appeal to the cigar industry. Her beautiful eyes, luscious lips and strategically placed tattoo are quite alluring. She is definitely a welcomed treat.

"I may bring a measure of sex appeal; however, that was not my intention," she announced. "A nice side effect that I'm not upset about. Enjoying a cigar isn't just for our dads or grandpas or just on special occasions."

This smokin' beauty has two cigar haunts that she frequents regularly, Anthony's Cigar Emporium and Cigar Warehouse.

"The atmosphere is very laid back, they take the time to get to know you," said Sunny. "The focus is personal relationships and getting to know your cigars, not just making the sale. Here I am known by name, and cigar preferences."

There is no doubt that Sunny Léon deserves to be this week's Sizzlin' Sunday Cigar Girl. She is beautiful, loves the leaf and appreciates culture surrounding the leaf.
"Male, female, young, or old, a cigar can be enjoyed by anyone," said Sunny.