Meet Sil Sanchez, a sizzlin' 37-year-old sister-of-the-leaf (#SOTL) from San Diego, California. Originally from the East Coast, this gorgeous gal moved to California in 2013 to pursue a career in Government Defense. It turns out she also found love…the love of the leaf.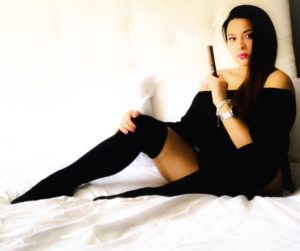 "You can find me enjoying a mild-bodied Cohiba when I'm wining and dining in Downtown San Diego or with a Monte Cristo or Partagas when I want to relax," revealed Sil.
Sil made another exciting revelation when interviewed by ultiamtecigarparty.com: she doesn't like to smoke alone. She seeks out the perfect companion before she begins each smoking experience.
"I like to enjoy the aroma and taste of the cigar; therefore, my pairing preference is usually a dry Pinot Grigio," she expressed.
There is no doubt that Sil is a very beautiful woman who exudes plenty of sex appeal. Her inviting facial features and smokin' hot body are impossible to deny.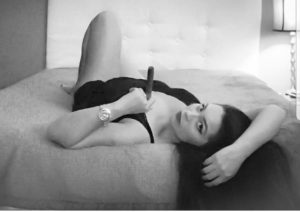 However, it's her confidence that will knock your socks off.
"I feel that women who smoke cigars display a sense of empowerment and confidence, which to me, is complete sex appeal."
In addition to smoking cigars, this smokin' beauty also enjoys riding her Harley Davidson.
"I like to incorporate the combination of my motorcycle and cigars to show that women can be feminine yet defeat the odds of the stereotype," she announced.  "With the vast challenges I put upon myself, often times I find smoking a cigar helps relieve tension."
Sil Sanchez definitely deserves to be this week's Sizzlin' Sunday Cigar Girl. She is a beautiful gal who loves smoking cigars and being part of the cigar culture.