Meet Sherri, a sizzlin' 48-year-old sister-of-the-leaf (#SOTL) from Maryland. Sherri is a gorgeous single mother who works in pediatric oncology healthcare. She is a philanthropist who helps the homeless communities of Washington, DC.
 This smokin' beauty has been smoking cigars for the past three years. Today, she smokes once or twice a week.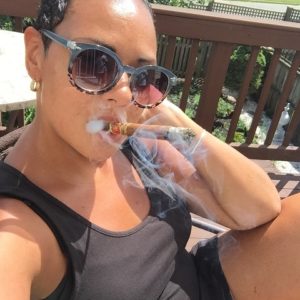 "I was introduced to cigars by a great friend who bought me my first few cigars along with a cute cutter," she stated. "He taught me how to smoke and I have been hooked ever since." 
 Sherri enjoys smoking traditional cigars; however, her preferred smoke is a flavored or infused cigar.
"I enjoy a nice Cohiba now and again, but I am mostly simple cigar smoker who enjoys flavored or infused cigars best," she expressed. "To name a few, Acid, Java, Tatiana, Nub…but my absolute favorites are the Sweet Jane and Fat Bottom Betty."
 Like many cigar smokers, this gorgeous gal loves to pair her sticks with drinks.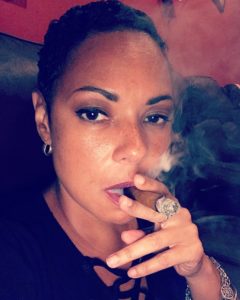 "I'm simple. I like Scotch on the rocks and red wine," she said. "I like to drink Frappa Chata – Rum Chata on the rocks with a brunch smoke."
 Sherri undoubtedly adds plenty of sex appeal to the cigar industry. Her beautiful face, rockin' body and inviting eyes will easily attracted even the most discerning men. Sherri agrees.
"There is nothing sexier than a woman who can steep into a man's world and feel confident, sexy and classy," she revealed.
 For those in the Maryland area, you may run into Sherri at her local haunt. She is known to frequent Cigars210 in Ft. Washington, MD, Aphelion in Crofton, MD and Tobacco Leaf in Jessup, MD.  However, she spends most of her time smoking in her own personal space.
 "I smoke the most on my deck, which I have named, 'Lotus ZenFe of the Leaf,'" said Sherri.Sherri most definitely deserves to be this week's Sizzlin' Sunday Cigar Girl.
She is smokin' hot, loyal to the leaf and appreciates the culture surrounding the art.