Meet Ross Nunez, a sizzlin' 31-year-old sister-of-the-leaf (#SOTL) from San Francisco de Macoris, Dominican Republic, the third largest city on the island. Today this smokin' beauty resides in the cigar capital of the world – Santiago de los Caballeros, DR. Ross smokes at least 1-2 cigars per day.
"I have been smoking cigars for nine or 10 years," said Ross. "I like to try new blends."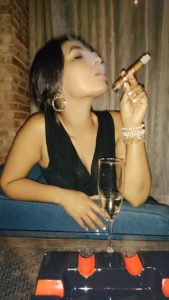 Ross works in radio and TV public relations but used to work in a cigar lounge. That is where she fell in love with the cigars and the culture surrounding the leaf.
"At first I did not like smoking cigars at all but I started appreciating the art behind each cigar and I was fascinated," Ross confessed.  
Even though Ross likes trying different cigars, she does have a favorite.
"I like to try them (cigars) all but my favorite is the Davidoff Yamasa robusto," she revealed. "It is a strong smoke with good texture and is a blend of the best tobacco leaves. The flavors are subtle and sweet and leave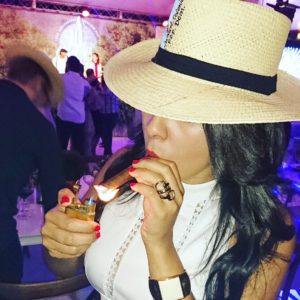 a great taste on my palate."
Her favorite beverages to pair her smokes with are wine and coffee.
"I always prefer a good red wine, port wine or coffee to enjoy with a cigar."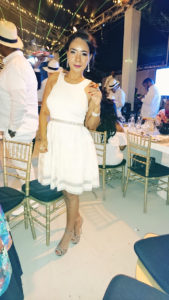 There is no doubt that Ross Nunez is a very beautiful woman who adds plenty of sex appeal to the cigar industry. Her gorgeous face, sexy body and illuminating smile are irresistible to say the least.
"Women look very sexy when they smoke cigars so I guess it has some truth to it. I do not really feel very sexy," expressed Ross.
Ross Nunez definitely deserves to be this week's Sizzlin' Sunday Cigar Girl. She is absolutely gorgeous, loves the leaf and appreciates the cigar culture. Her work to promote women in the cigar industry is empowering
"I think it is time that more women start realizing the pleasure of smoking a good cigar," she stated. "I am happy that women are becoming more involved with cigars. Years ago I did not dare let someone see me smoking a cigar. Today the misconception is changing and that makes me very happy."