Meet Renee Barkley, a sizzlin' 46-year-old sister-of-the-leaf (#SOTL) from Miami, Florida. Renee is a beautiful gal who has spent time in New York and Atlanta before finally settling in Miami. She is a Commercial Casualty Insurance Underwriter who smokes cigars twice a week.
Renee's entrance into the cigar world is a unique tale of two lovers locked in a quarrel.
"About two years ago, my hubby and I had a bet, I can't remember the details, but I lost," revealed Renee. "As a result, I promised him that I would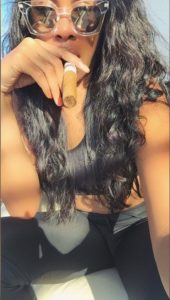 smoke if I did. I took my first pull and I was hooked."
This smoking beauty started out smoking sweeter, flavored cigars but has since graduated to the 'real deal'. Her palate quickly evolved into that of a discerning enthusiast who knows what she likes. Her favorite cigar is the Montecristo White Label.
"For women to revere cigars as much as a man, there's something very tantalizing about that," Renee expressed. "I watch the smoke, enjoy the taste and spend quality time in my thoughts."
Renee loves to pair her favorite smokes with coffee.
"I actually love drinking coffee with my cigars," said Renee. "I've found that coffee and cigars are a like a perfect marriage. The coffee/espresso give me a velvety taste after each pull and I find it very delightful."
There is no doubt that Renee is a beautiful woman who exudes plenty of sex appeal. Her beautiful face and rockin' body speak volumes. She seems to agree with the consensus to an extent.
"I honestly never felt or thought of the industry at all when smoking," she announced. "For fact, I don't attach my sex appeal to cigars. I think I am a 'sexy woman' that happens to love cigars. A cigar is more about relaxation and less about sex appeal."
Renee equates her smoke time with privacy and relaxation so she prefers private settings rather than public cigar lounges. However, she does pass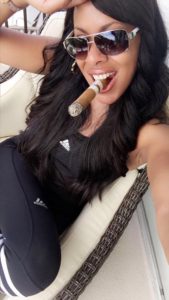 through cigar lounges from time to time.
"I tend to smoke more privately. I'm not a big social smoker. I prefer rooftops or patios at home," stated Renee. "The lesser the crowd, the more 'me' time with my cigar."
When she does visit cigar lounges, it is usually her local spot in Miami, Prime Cigar Miami – Casa de Montecristo or when on the road in Atlanta, Renee likes Scottish Tobacco and Davidoff of Buckhead.
Renee is a stunning woman who definitely deserves to be this week's Sizzlin' Sunday Cigar Girl. She is beautiful, loves the leaf and appreciates the 'inner comfort' that cigars bring.
"I find cigars elegant and can see why there is much sex appeal surrounding female cigar smokers. A woman will always attract attention when smoking," boasted Renee.