Meet Mirela, a sizzlin' 34-year-old sister-of-the-leaf (#SOTL) living in Switzerland. This smokin' beauty who was born in Romania and raised in Austria, has lived in Switzerland for the past eight years. She doesn't consider herself a "typical girl" but more of an adventurous gal who enjoys doing "male" things.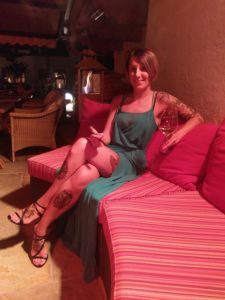 "I love big and fast cars, sports, guns, tattoos and cigars," said Mirela. "Probably not that usual for a girl, I love shooting. I love guns and I love fun that comes with it."
Mirela knew early in life that she didn't want to be a "typical" girl.  She left university studies to enlist in the Austrian Army, where she remained for many years before becoming a police officer.  Today, she works as an ATCO (Air Traffic Control Officer) in Geneva, Switzerland.
Mirela began smoking cigars a little more than a year ago.  
"My husband started smoking cigars so I was interested," she explained. "It took me almost a year to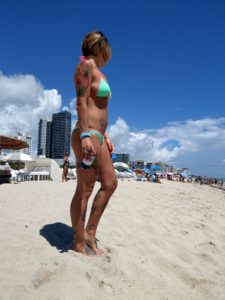 discover the good cigars and what they are all about."
Her first cigar, which is now her favorite, was a 2015 Punch Regionales Suiza. Today she smokes quite frequently enjoying brands like Bolivar and Por Larranga.
"I loved it and that's how it started…now it's a bit more than a year that I smoke," she noted. "I smoke two per day but if I have to work, maybe just one. On very busy days I am smoking maybe two to three times a week."
Her favorite drink pairings differ a bit from the traditional cigar smoker.
"I am different.  A lot of people prefer whisky and cognac with cigars, or coffee," said Mirela. "I like coffee too, definitely, but otherwise, I like sweet cocktails to pair with a cigar. For example an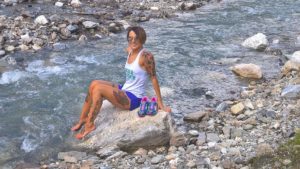 Amaretto Sour, vodka sour, or some great champagne cocktails. Every cigar is different, yes, but I love to have something sweet with my cigar."
There is no doubt that Mirela adds plenty of sex appeal to the cigar industry. Her zest for adventure, shapely physique and beautiful face can easily drive a man wild with desire. However, it's her modesty and honesty that are most intriguing.
"I definitely do add as well sex appeal, but probably in a  different way! I do not like to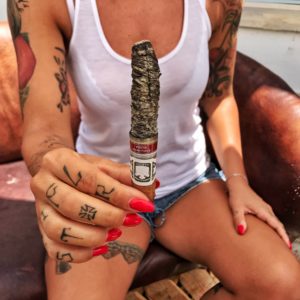 show too much of myself. I don't want to reduce to nudity and cigars," she boasted. "My IG shows me, as I am. It shows what I like and what is important to me.  That's what you see…is that sexy? Probably not for everyone, but I'm ok with that."
Mirela's love for cigars has grown so much that she joined a pretty serious cigar group called, "SOTL Mafia." This is a group of sexy cigar smoking ladies from all over the world who congregate on Instagram.
"It's a very fun thing," she exclaimed. "We have girls from all ages and from all parts of the globe come together over a cigar. We are an amazing group of beautiful ladies sharing a passion and showing it."
Mirela definitely deserves to be this week's Sizzlin' Sunday Cigar Girl. She is beautiful, loves cigars and appreciates the good life.
"I'm having a great life traveling with my husband and our French bulldog," she expressed. "I love cigars, good food and good drinks. I love to travel the world, love tattoos, guns and meeting great people."