Meet Melanie, a sizzlin' 55-year-old sister-of-the-leaf (#SOTL) from Texas. Born and raised in New Orleans, Louisiana, Melanie loves smoking cigars and traveling to tropical destinations, especially beaches. She enjoys cigars so much that she smokes at least two a day.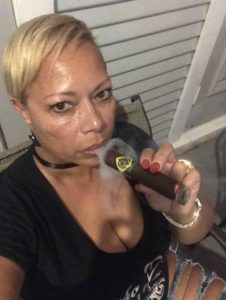 "I started enjoying cigars about five years ago but only smoked maybe once a month back then," Melanie explained. "The last three years I have been smoking more often and meeting others in the community."
Melanie's favorite cigar line is Caldwell Cigars, especially "The King is Dead", "All King Out," "Eastern Standard Midnight Express" and "Long Live the King." However, she also enjoys Oliva V Melanio, Espinosa Laranja, RomaCraft and Ashton, too.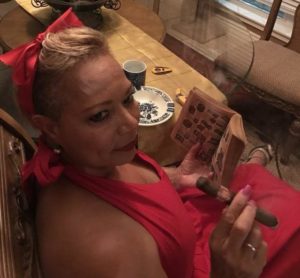 "I love dark wrappers and my palate is very inquisitive so I'm still exploring lots of cigars," she revealed. "I'm not fixed on a size because it depends on my mood and the amount of time I have to smoke. I hate rushing."
When it comes to pairing drinks with cigars, well, Melanie's choices vary greatly depending on her mood.
"I like IPA beers, Balvenie Scotch, Jameson whiskey, Chocolate whiskey, Malbec wine and Pinot Noir wine."
This smokin' beauty definitely adds plenty of sex appeal to the cigar industry. She is a gorgeous, classy gal who loves the leaf.
"I'd like to think that I add sex appeal. I've been told by many men and women that I make smoking cigars sexy," she boasted.
Melanie definitely deserves to be this week's Sizzlin' Sunday Cigar Girl. She is gorgeous, classy and loves the cigar culture.
"I am in a group with Sisters-of-the-Leaf from around the globe called, #SOTLMAFIA on IG. Every Friday we select a theme and call it #SOTLMAFIAFRIDAY. We post theme pics each week," she expressed.
Feel free to follow Melanie and her #SOTLMAFIA on IG @dahreddchile