Meet Marissa, a sizzlin' 21-year-old sister-of-the-leaf (#SOTL) from Connecticut. Not only is Marissa a cigar smoker and tobacco enthusiast, but she is also a gorgeous tobacco farmer growing broadleaf and habano tobaccos on her Connecticut tobacco farm, which is also home to Drew Estate's Connecticut Barn Burner event.
"I have worked on a farm since I was 14 and started in the tobacco sector when I got a little older," Marissa explained. "Now I work in the fields growing Connecticut Valley tobacco."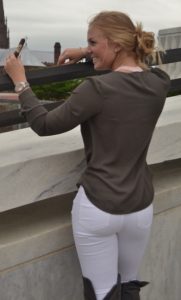 This smokin' hot tobacco farmer started smoking cigars a 'couple of years ago' after becoming curious about what her craft was creating. She tries to smoke as often as she can, but her busy life on the farm sometimes gets in the way.
"I actually started smoking cigars because I was interested in where our tobacco ended up in the marketplace, the industry to which I was contributing," expressed Marissa. "I can usually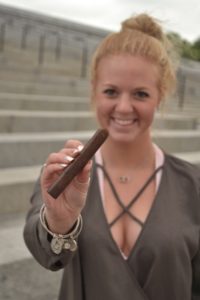 only find time to smoke when I'm on long drives."
Marissa is a field hand at the farm, meaning, she works directly with the tobacco from the greenhouse to the curing barn. She is responsible for planting, hoeing, pre-harvesting, stripping and sorting.
Marissa spends most of her days enveloped in large tobacco leaves while her nights are spent dreaming of her days. There is little wonder how she fell head-over-heels in love with CT broadleaf tobacco; however, she has been known to stray from her beloved broadleaf from time to time.
"Of course, CT broadleaf has become my favorite wrapper on a cigar, but I also enjoy a variety of full-bodied blends," she confessed. "I rarely smoke a lighter, milder cigar unless I've been recommended to it by a friend."
The Lonsdale and corona vitolas have become her preferred size and coffee is her pairing of choice. Some of her favorite cigars are: My Father CT H2K, Drew EstateVelvet Rat, and Tabernacle by Foundation Cigars.
"Whatever time of day, I love having a cigar with coffee," she boasted.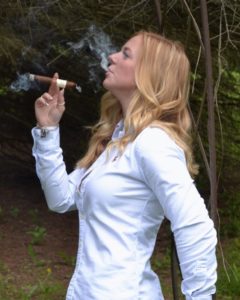 There is no doubt that Marissa is a strikingly beautiful young lady who brings plenty of sexy appeal to the cigar industry. Her adorable face, rockin' body and radiant smile illuminate the cigar industry like a jewel in an Ethiop's ear. Plus, she is a tobacco farmer – doesn't get much sexier than that.
"I feel that I bring a new image to the cigar industry because not only am I a female, but I also am a farmer so I am involved in the entire tobacco process from start to finish," said Marissa. "I can offer unexpected knowledge to smokers."
Marissa may be the quintessential woman in all facets of the imagination. She is gorgeous, loves full-bodied cigars, is a tobacco farmer, and hangs out in cigar lounges, too.
"I personally love hanging out at cigar lounges because I think they are an unmatched social experience," professed Marissa. "You can smoke a cigar sitting at table with a white-collar worker, university professor, mechanic or a volunteer soup kitchen worker and have the most unique, inclusive conversation you would never have anywhere else. I have met some of the most amazing people in my life from cigar lounges."
Marissa definitely deserves to be this week's Sizzlin' Sunday Cigar Girl. She is an intoxicating woman who can easily capture any man's heart.