Meet Lori Denise Medley, a sizzlin' 48-year-old sister-of-the-leaf (#SOTL) from Atlanta, Georgia. Originally from Pontiac, Michigan, this smokin' beauty started experimenting with cigars about seven years ago when a colleague opened a cigar lounge.
Her introduction to the enchanted world is interesting.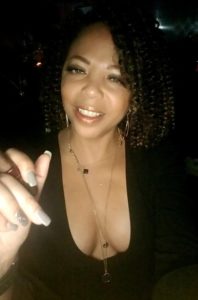 "Initially I was just spending time at the lounge to support my friend's business, but then over time cigar lounges/bars became the hottest trend," revealed Lori.  "I think I developed a love of the cigar crowd first, which then led me to developing a love for the lifestyle."
Lori is a dazzling dame who still considers herself a "novice" compared to other veteran smokers. However, to her credit, she loves trying new and different blends.
"I started with the Java cigars and absolutely love the sweet chocolate finish on the Maduro," she boasted. "Recently I moved on to one of the Davidoff Signature cigars paired with Blanton's neat."
Lori also enjoys sipping on martinis when smoking her Java cigars, but she often gets chided by her friends when so doing.
"My friends tease me because Java is more of a beginner smoke but I still love it after dinner, especially with a chocolate martini," she confessed.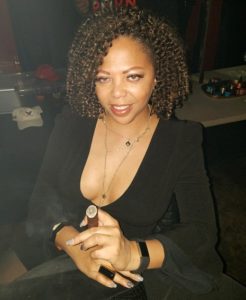 Lori doesn't like only bourbon and vodka. Ultimatecigarparty.com discovered that she also adores wine. In fact, she recently dove into the wine business holding personal wine tastings and wine fundraisers.
"I pretty much love all things wine, which pairs nicely with cigars," she said.
Lori is a gorgeous gal who adds plenty of sex appeal to the cigar industry. Her adorable face and rockin' body provide plenty of eye candy in cigar lounges.  Ogling men easily get distracted by her alluring physique.
"I don't know if I add sex appeal but I feel sexy when I'm smoking," she expressed. "It's empowering to partake in something typically reserved for the 'boys' club' and I think they are secretly happy that they now have some eye candy!"
Lori is not bashful when it comes to smoking in lounges. She loves the loves and enjoys patronizing her local haunts.
"I have two favorite spots in Atlanta, Cigar City Club, which features live Jazz and a 5-star chef/menu and 617 Social Club, a versatile establishment where you can hear Jazz, a DJ or a watch a sporting event on any given night," she stated.
Lori undoubtedly deserves to be this week's Sizzlin' Sunday Cigar Girl. Her beauty is radiant, she  loves the cigar lifestyle and she is open to expanding her palate by dabbling in new experiences.