Meet Lisa Carrington, a sizzlin' sister-of-the-leaf (#SOTL) from Phoenix, Arizona. Lisa, who is better known as the Cocktail Maven in social settings, is a smokin' dame who entered the cigar realm fifteen years ago.
"About 15 years ago on a cold rainy November weekend I found myself with my significant as the only two people in a tiny little bar in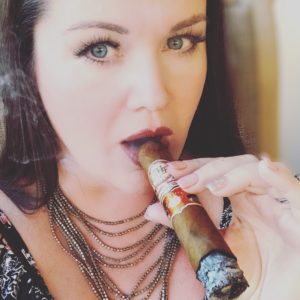 northwest Oregon," explained Lisa.  "I asked him to teach me. I found out I really enjoyed cigars."
Today, the cocktail maven smokes about two to three cigars a week. She loves to smoke medium to full bodied cigars and the Oliva V series is her go-to option.
"Phoenix has beautiful weather most of the year and there is nothing I'd rather do to relax than to have a cigar and a cocktail on the back patio or in the pool. I seldom ever sit down or stop moving and a cigar is great because it forces me to sit and relax and enjoy myself for an hour or two," she expressed.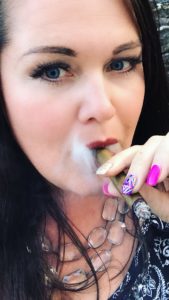 Lisa is not called the "Cocktail Maven" for nothing. In addition to cigars, this glamorous gal loves to create new cocktails.
"My other passion is cocktails," she revealed. "I make my own cocktail bitters, syrup and infusions. My love for smoke crosses over into both worlds. It's not unusual for me to use pipe tobacco to smoke a glass before I put in the cocktail."
The Cocktail Maven hosts a weekly alcohol podcast called, "The Lushus Life." It is a fun mix of education and booze talk with 'enough naughty' to keep viewers interested.
"My co-host and I cover all types of alcohol, cocktails, alcohol related products, history and the ties between everyday life and alcohol. This is totally me adulating like a boss."
Being the 'Cocktail Maven", of course this smokin' beauty pairs her sticks with luscious libations. She prefers whiskey, cognac or port when smoking, but also loves creating her own concoctions using different spirits and bitters. She believes, one drinks with his or her eyes first, nose second and mouth last. Adding smoke really enhances each of those.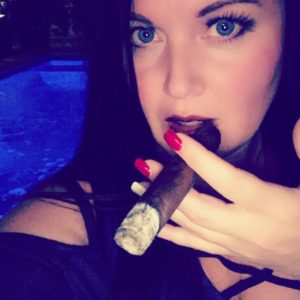 "I spend a lot of time crafting cocktails to go specifically with cigars. I like very spirit forward cocktails, which tend to be extremely strong," stated Lisa. "I designed a drink called, "Luck be a Lady" that has turned out to be the hands-down favorite of my cigar smoking friends. It combines rye whiskey, China-China (a French bitter orange liqueur), Aztec (chocolate) bitters, and a spritz of Lagavulin 16 single malt Scotch over top."
There is no doubt that the Cocktail Maven adds plenty of sex appeal to the cigar industry. She is absolutely stunning. Her gorgeous eyes, beautiful face and inviting physique are intoxicating. Plus, her thirst for the perfect cocktail is to be revered.
"I think confidence is sexy. It's really sexy when people aren't afraid to be who they are," expressed Lisa. "They ignore social norms and indulge in the hedonistic things that make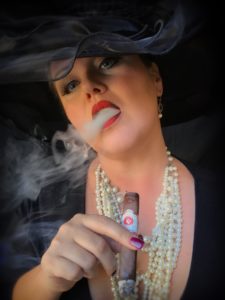 them happy. I have been told that these are the things about me that people find sexy. So in that sense I suppose I do add to the sexiness that is already somewhat inherent in the cigar smoking ethos."
Smokers in the Phoenix area may run into Lisa at her favorite cigar lounge, Ford on Fifth in Scottsdale. It is a lounge, owned by Anthony and Melanie Cantelmo, that is known for its top-notch customer service, its warm, inviting atmosphere and its grand selection of fine premium cigars.
"They are very knowledgeable about tobacco, which means I always get to try new things that I like. They help me pair them with my cocktails and I continuously learn from them," said Lisa.
There is no doubt that Lisa, the Cocktail Maven, deserves to be this week's Sizzlin' Sunday Cigar Girl. She is gorgeous, loves cigars and appreciates the power of the leaf. Also, her knowledge and passion for cocktails is impressive and admirable.
"Cigars force you to slow down and take a concentrated breath to focus on the normally unconscious acts of inhaling and exhaling. You can reflect and think and be quiet. There is something about watching the smoke curling away from you on a perfectly calm day can be mesmerizing," she said.
You can connect with Lisa on Instagram @Cocktail_Maven or on her website www.cocktailmavenaz.com. Be sure to tune in to her podcast every week at, www.thelushuslife.com or download her app on iTunes or Google Play.