Meet Leanne Henderson, a sizzlin' 35-year-old sister-of-the-leaf (#SOTL) from Dayton, Ohio. Leanne is one of the first ladies of the Big Six Tobacco Company, an up and coming cigar retailer in Ohio.
 "We recently debuted our website www.bigsixtobacco.co and will soon be launching our online tobacco retail site," Leanne revealed. "It will be followed by the brick and mortar location in the Dayton area."
 Leanne is not just a passionate cigar smoker but a future retailer shop owner as well.
 "After a dream last December, my husband started on a journey to owning a cigar lounge," said Leanne. "With his business partners, we are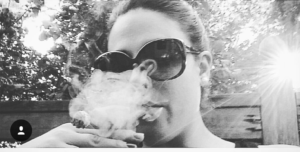 working so hard to launch a brand into the industry. We hope to achieve a new standard of what a cigar and tobacco shop can be."
 Leanne has quite a bit of smoking experience to support her knowledge of the leaf. She has been smoking cigars off and on since she was 18-years-old. Today, she smokes 1-3 times per week on average, but sometimes more.
"I was introduced to cigars by my husband @bigsixadam," noted Leanne. "As the craft cigar industry has exploded, my interest in cigars has reemerged."
This gorgeous mother of three certainly has good taste in cigars. Some of her favorite sticks are: Perdomo Habano Sungrown, Roma Craft Aquataine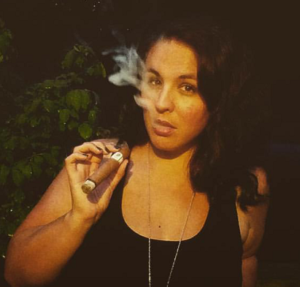 and Anthropology, Crowned Heads La Imperiosa, Drew Estate Undercrown Shade and Caldwell Savages. She also loves Cameroon and Nicaraguan tobaccos.
"I love a Cameroon binder or wrapper and tobacco from Esteli," said Leanne. "Nicaragua is on point in my humble opinion."
Leanne also has a favorite vitola or two.
"My favorite vitola is a robusto on most occasions, although when time permits, sometimes a gordo is called for," explained Leanne.
Like most cigar enthusiasts, Leanne loves to sit and relax with a drink when she puffs on her Nicaraguan robustos.
"I love a good strong hazelnut coffee or espresso with my morning or afternoon cigars," expressed Leanne. "But, once the sun starts to set, bring me a funky craft brew. I love an IPA, fruity brews, and coffee stouts. My tastes are quite eclectic and diverse for beer and cigars alike."
Despite Leanne's humble opinions of herself, there is no denying the fact that this smokin' beauty brings plenty of sex appeal to the cigar industry.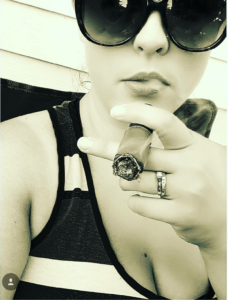 "I have a difficult time admitting to being considered 'sexy,'" Leanne commented. "Obviously, my husband thinks so, but to hear that other people think I am is slightly awkward yet flattering."
 She went on to say, "I do believe that cigar appreciation is not just for the boys. Women are all strong and beautiful creatures. So if I inspire another woman to try a cigar or let her freak flag fly by just being me, I have done my job."
 Until the Big Six Tobacco Company opens its doors, Leanne spends most of her time smoking on her front porch where she knows 'the drinks will be strong and the beer will be cold.'
 There is no doubt that Leanne Henderson deserves to be this week's Sizzlin' Sunday Cigar Babe. She is beautiful, knowledgeable and very passionate about the leaf.