Meet LaToya, a sizzlin' 39-year-old sister-of-the-leaf (#SOTL) from Nashville, TN. LaToya, born and raised in Indiana, moved to "Music City" in 1997 to study massage therapy. Thus began her journey into the enchanted world of cigars.
"I have been smoking since 2003," revealed LaToya. "I walked into a smoke shop looking for something to replace cigarettes and the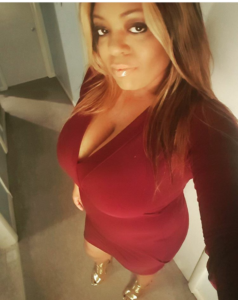 man working there suggested I try flavored cigars. I fell
in love with the CAO Flavours."
Today this smokin' beauty smokes three or more cigars per week. Flavor infused cigars, specifically Drew Estate's Acid line, remain a favorite but LaToya has since expanded her palate to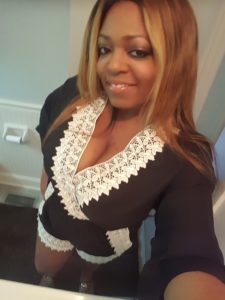 more traditional cigars.
"A few years after I started smoking I joined a meetup group for cigar smokers and upgraded to more full-body cigars," explained LaToya.
A few staple brands that you will find in LaToya's humidor are AVO, Drew Estate, Joya de Nicaragua, and Crown Heads.
"My favorites are the AVO Heritage toro and Crown Heads J.D. Howard Reserve HR50," said LaToya. "I lean more toward Nicaraguan blends."
LaToya is a sensual dame who loves to pair her cigars with red wine.
"I love wine. It is always a plus when a wine pairs well with a cigar," said LaToya. "I find that red blends pair well with the cigar that I like. My favorite pairing right now is Josh Cellars Cabernet Sauvignon with a Joya de Nicaragua Cuatro Cinco Reserva Especial torpedo. Both have tasty hints of espresso, nuts and oak, which leaves me feeling like I'm in heaven."
LaToya is a very sexy gal who adds plenty of sex appeal to the cigar industry. Admirers are quickly consumed by her natural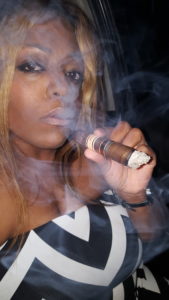 expressions of sensuality.
"I have been approached by people who have told me that I look sexy smoking a cigar," boasted LaToya. "I enjoy tasting the flavors as you inhale and playing with the smoke as you blow it out. Smoking a cigar is sexy."
LaToya enjoys smoking her cigar at home after an exhausting day at work; however, she also loves to patronize few local lounges.
"My favorite lounge is Battleground Smokes and Spirits. They have great live music and the owner and his wife are great people," stated LaToya. "I also like Franklin Cigars and Tobacco Road."
LaToya definitely deserves to be this week's Sizzlin' Sunday Cigar Girl. She is sexy, sensual and loves the leaf.
"I'm not an aficionado but I know what I like and that is all that matters. I do like to add that feminine touch to my cigar pictures that is unique to just us, women. We are a part of the industry so why not?"