Meet La Shaunda Williams, a sizzlin' 46-year-old single mother of three adult children from Columbus, Ohio. This sister-of-the-leaf (#SOTL) is a registered nurse who specializes in geriatric and psychiatric care.
La Shaunda smokes two cigars a day, usually after work or when socializing.
"I've enjoyed cigars for the last two years," said La Shaunda. "Curiosity sparked my interest in cigars, so,  I did some research on the types of cigars that women enjoy and began from there."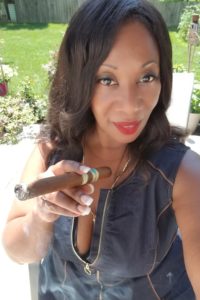 Like most cigar smokers, this lovely lady-of-the-leaf enjoys trying different brands and blends; however, she does have a few go-to sticks that she absolutely adores. Nicaraguan maduros are always at the top of the list.
"I'm diverse when it comes to particular brands, but I do have an affinity for the My Father Line, particularly the Judge. Drew Estates and H. Upmann are also a couple of favorite brands," she expressed.
La Shaunda is very careful when pairing her smokes with alcoholic compliments. She tends to lean toward Argentina's Malbec wines, Stella Artois beer or Makers Mark 46 and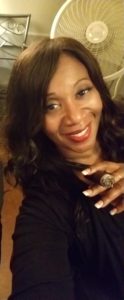 Woodford Reserve bourbons.
Where can you find La Shaunda flaunting her exquisite taste for cigars and booze?
"I support several cigar lounges in my area, such as Pipes and Pleasures and The Royale, but in my hometown of Dayton, Ohio, The Wharf and The Stogie Shop are my spots."
There is no doubt that this gorgeous gal exudes plenty of sex appeal. Her physical beauty is admired by many men who cross paths with her at her local cigar haunts. Her beautiful face, illuminating smile and rockin' body are intoxicating.
"I have found that men are very attracted to women who smoke a cigar," explained La Shaunda. "It does add a seductive undertone to the experience for them. I also feel that I am in my power as a woman who embraces her femininity and her sexuality, and that I look sexy and feel sexy as a woman who smokes."
La Shaunda Williams absolutely deserves to be this week's Sizzlin' Sunday Cigar Girl. She is gorgeous, loves cigars and appreciates the culture.
"I am enjoying developing my cigar and bourbon palate and am not afraid to jump right in an experience everything to the fullest."