Meet KellyAnn Sparks, a sizzlin' sister-of-the-leaf (#SOTL) from Huntsville, Alabama. KellyAnn is an "Army brat" who has lived in the South her entire life. As the daughter of an Army colonel, Kelly grew up appreciating cigars.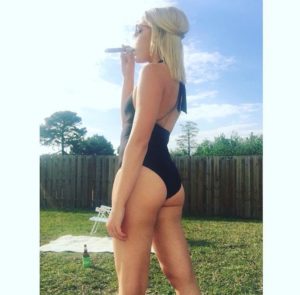 "My father got me interested in cigars as a teenager and I was hooked ever since," said Kelly.
Kelly, who considers herself "all girly" also enjoys cooking, interior design, refinishing furniture, playing the violin and reading non-fiction books. She is currently studying for the LSAT so she can attend law school to become a women's advocacy lawyer.
Cigar enthusiasts may recognize Kelly as a contributor to the popular YouTube show called, "Cigar Noise." It's a weekly segment focusing on cigar reviews.
As a reviewer of cigars, this smokin' beauty has definitely smoked her fair share of sticks and two stand out above the rest.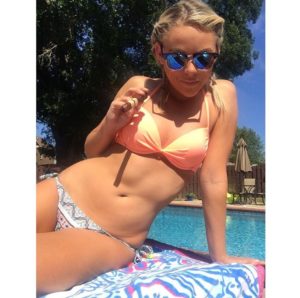 "My favorite cigar is a tie between the limited edition Aging Room and Romeo Y Julietta collaboration, Romeo by Romeo y Julieta Aging Room and a La Gloria Cubano Serie R," revealed Kelly.
She also loves to pair her smokes with a tasty libation.
"I love to have a scotch on the rocks or a big glass of red wine with my smokes," she announced.
There is no doubt that Kelly is a smokin' beauty whom offers plenty of sex appeal to the cigar industry. Her golden hair, gorgeous face and rockin' body are quite intoxicating, mesmeric in fact. However, there is more to Kelly's allure than just her physical beauty.
"I consider myself a feminist, which I think is sexy to begin with. I think uplifting all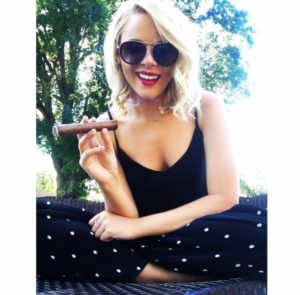 women, and strengthening that sisterhood is the sexiest thing you can do as a woman," professed Kelly. "I can't lie, I always enjoy the surprised looks I get from men in my industry when I light up a stick at an after hours work event. I'm all girly, pink and classy and I get such a kick out of the reaction when I light up a cigar stronger than anyone else's."
KellyAnn definitely deserves to be this week's Sizzlin' Sunday Cigar Girl. She is an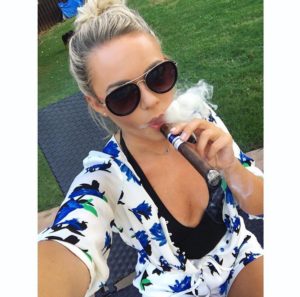 absolutely gorgeous woman who loves the leaf and appreciates its culture.