Meet Juanita Rojas, a sizzlin' 41-year-old sister-of-the-leaf (#SOTL) from Dallas, Texas. Juanita is a former pre-school teacher turned tobacconist. She is currently enrolled in Tobacco University's retail accreditation program to earn her official certification.
This smokin' beauty began smoking cigars nearly ten years. Her ex-boyfriend's dental office was above a cigar shop and they would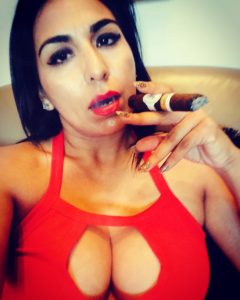 frequent the lounge together during his down time.
"I became a regular at the shop and fell in love with the sense of community. There was a 'oneness' among the customers," said Juanita. "It was beautiful to be part of something so special."
Fast Forward nearly a decade and Juanita has become a connoisseur of the leaf. She works as a retail tobacconist at Up in Smoke (Northpark) cigar lounge in Dallas, Texas smoking one to four cigars per day. She has developed quite the palate appreciating the finer flavors of Davidoff, Padron and Fuente.
This lovely Latina has "many favorite" cigars but Davidoff Chef's Edition, Davidoff Year of the Monkey, Davidoff Winston Churchill Late Hour, Padron 50th and 90th Anniversary, Fuente Opus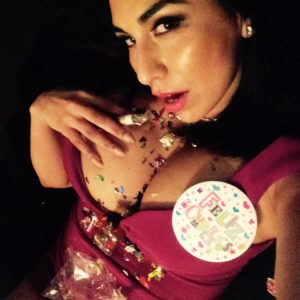 X and Hemmingway are among her top choices. Her taste for cigars is extraordinary. She certainly knows how to pick 'em.
"I smoke Davidoff because, in my opinion, it has a luxurious finesse about the line. Beautiful construction, great ash every time and flavor-able to the last puff. They are my statement cigars," she declared.
Her favorite drinks to pair her smokes with are Topo Chico Twist of Lime (green bottle) or a double espresso.
There is no doubt that Juanita is a bombshell dripping with sex appeal. Her gorgeous face, luscious lips and rockin' body are irresistible. Her love and knowledge of the leaf ramps up her allure tenfold, making Juanita the quintessential woman most men dream about.
"Humbly I would like to say that I add sex appeal to cigars only because the guys at the shop and customers say that I do," boasted Juanita.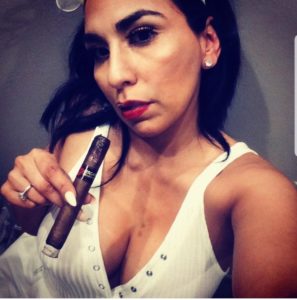 When not working, this sexy #SOTL enjoys spending time at Cigar Warehouse, also in Dallas.
"I love the employees Scott, Marcos and Taylor and the owner Elliot is great. They always make me feel welcomed and make great suggestions on new cigars. They were even so kind to have out my favorite chair out  at the new location. I spend hours in this chair smoking , studying for my CRT exam & doing some of my writing," expressed Juanita.
During her free time, Juanita enjoys writing, reading, enjoying the arts, watching movies, running, bird watching and napping.
"I am working on writing cigar murder mystery and almost completed a children's story based on a significant other's pets, Topo the Dog, Human Alex, Edward and Louise the Turtles & Edwin Turkey Vulture. I do this while enjoying a cigar," said Juanita.
There is no doubt that Juanita deserves to be this week's Sizzlin' Sunday Cigar Girl. She is a striking woman whose beauty is intoxicating; plus, her knowledge and respect for the leaf is intriguing.
"Cigars make everything better," says Juanita.