Meet Jessalyn Daniels, a sizzlin' 40-year-old married mom of four from Texas. This lovely lady-of-the-leaf (#LOTL), originally from Tennessee, is a true tobacconist. She is the CEO and face of SDS Cigars and has recently released her own line of cigars called, CigarElleEnvi.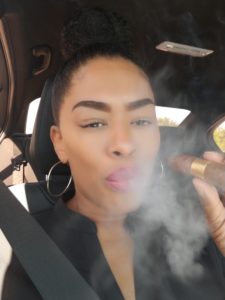 "I smoke cigars daily," boasted Jessalyn. "I work in the industry and have for three years now. I am married to a master blender of SDS Cigars. I credit my husband for introducing me to cigars."
When choosing her perfect smoke, Jessalyn gravitates toward sticks with bold flavors and medium to full strength. She looks for white pepper, chocolate, black cherry, leather, wood and cinnamon tasting notes.
A few of her usual cigar choices are selections from My Father, Kaffee, Tatijuae, Perdomo, and Arturo Fuente, but SDS is always her go-to stick.
"My favorite cigar to smoke anywhere and everywhere is the SDS Envi I or III," she revealed. "It just harmonizes with my palate."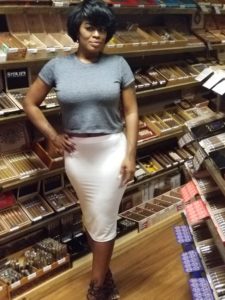 This smokin' beauty usually pairs her smokes with an assortment of beverages including coffee, wine, Dalmore and Buchanan Scotches.
There is no doubt that Jessalyn offers plenty of sex appeal to the cigar industry. Her smokin' hot body, inviting eyes and luscious lips are mesmerizing and irresistable.
"I do feel that I add a bit of sex appeal," expressed Jessalyn. "Cigars exude class so I make sure I don't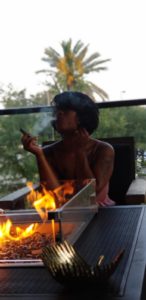 over do it. I really want to be seen as a woman who knows cigars and being sexy is an added bonus."
This sexy sister-of-the-leaf (#SOTL) enjoys hanging out at a few local cigar haunts of hers.  Stogies World Class Cigars in Sugarland, Texas is a favorite spot and Imperial Cigars, also in Sugarland, is another beloved local.
Jessalyn Daniels definitely deserves to be this week's Sizzlin' Sunday Cigar Girl. She is a very sexy #SOTL who has fallen head-over-heels in  love with cigars. Her knowledge, passion and work in the industry are to be commended.
"My passion for cigars are beyond what my passion for anything else," she said. "My goal is to become a name in the industry. I love the journey I've been on and I'm excited about what the future hold for both SDS Cigars and CigarElleEnvi."