Meet Itka Vistisen, a sizzlin' 26-year-old sister-of-the-leaf (#SOTL) from Estelí, Nicaragua. Itka is one of the most prominent Sizzlin' Sunday Cigar Girls that Ultimatecigarparty.com has featured. She is the vice president of Royal Danish Cigars and owner of Altamirano Cigars.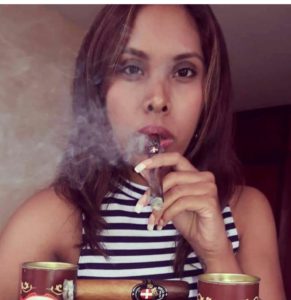 Itka is a smokin' beauty who hails from Nicaragua's "Capital of Tobacco." She has smoked cigars her entire adult life, starting at 18 years old. Today, she smokes between four and six cigars per week.
"I like cigars because my father is a fan and that is how I started to smoke," explained Itka. "Eventually I began to work on it."
Itka does not have a favorite cigar; however, she tells Ultimatecigarparty.com that she does have a favorite ring gauge – the 60 x 6.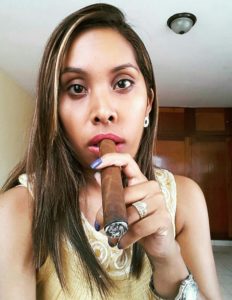 Itka is a classy gal who enjoys smoking cigars while sipping on a fresh roasted coffee or a fine wine.
Itka is a beautiful gal who travels around the world quite often. She has been to many, many cigar lounges around the globe, so, narrowing down her favorites is a tall order. At the time of publication, Itka has been spending a lot of time in the only two lounges in all of Tallin, Estonia – The Oak Lounge and Sigari Maja.
Currently, Itka has been traveling around the world opening up new markets and revolutionizing the tobacco industry by introducing the world's first microbiological-enhanced cigar. A cigar created from a new modern fermentation process.
"An example of that is our cigar named, UMAMI," she revealed.