Meet Heather Sadie, a sizzlin' 26-year-old sister-of-the-leaf (#SOTL) from Chicago. Heather first appeared on ultimatecigarparty.com in 2014 as a Sizzlin' Cigar Girl but has since exploded on the cigar scene.
She is not just a pretty face pinned to the wall of some testosterone filled cigar lounge. She is the devilish dame who steals the show with her lips locked around a premium cigar, smoking with the boys.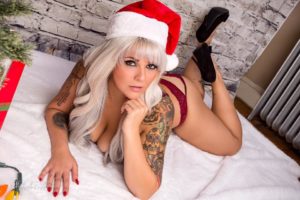 Heather, who has been smoking cigars since she was 18 years old, may be the quintessential woman of every man's dreams. She loves guns and ink, shoots whiskey, smokes cigars and is drop-dead gorgeous.
This smokin' beauty has developed an intense passion for the leaf in the past eight years. Her palate has been refined and her knowledge has increased immensely. Today, she smokes 4-6 cigars per day, with Tatuaje J21 being her ultimate vice.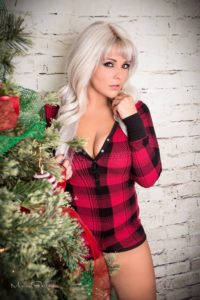 "Every morning I start my day with some black rifle coffee and a J21 by Tatuaje," Heather revealed. "I can honestly say that is my favorite cigar of all time."
Heather's love for the leaf has taken her on a career path of success. She has worked at several cigar lounges and even honeymooned as a cigar sales representative with Luj Luxury Cigars. Today she manages an upscale cigar bar called Karma Cigar Bar in Merrillville, Indiana.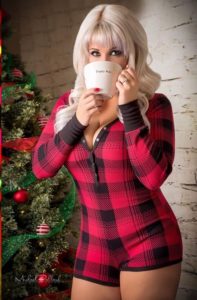 Despite all of Heather's alluring qualities, it is her philanthropy that truly defines her tender, altruistic soul.
"When I'm not working at Karma Cigar Bar, I am running a veteran suicide prevention charity called, Quick Reaction Force 22," explained Heather. "We specialize in suicide prevention, TBI and PTSD awareness."
It is no secret that Heather brings plenty of sex appeal to the leaf with her inviting eyes, luscious lips and gorgeous facial features. Plus, her rockin' body is quite tantalizing. Her striking appearance and zest for adventure are a welcomed treat in the otherwise male-dominated industry.
"I definitely feel I do add my own sex appeal!" she boated. "Just don't let my pretty face fool you. I am full of knowledge, very quick witted and I can hang with the men."