Meet Elizabeth Borlado, a gorgeous Cuban-born sister-of-the-leaf (#SOTL) living in Miami. Elizabeth started smoking cigars in 1999 and today she smokes between two and six cigars per day.
"As a child born in Camaguey Cuba, I grew up exposed to all the Cuban extraordinary smells like Cuban coffee, fresh smell of sugar cane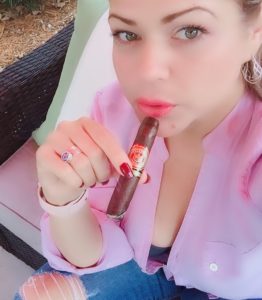 and, of course, cigars," expressed Elizabeth. "As an adult, my passion for cigars grew and from the first cigar I ever touched an incredible connection was made."
Elizabeth's father and grandfather used to work at the biggest sugar mill in Camaguey. She used to follow them around the mill to savor the aromas from the trail of smoke that emanated from their cigars while they worked. Her passion for the art continued to grow with each passing year and smoking cigars became an integral part of her life.
"I am a very spiritual person and to me smoking a cigar is a moment that I can be 100% myself," explained Elizabeth. "I enjoy seeing the way it burns, the shape of the ash, see if it's a good cigar, if it was hand rolled correctly, etc. It becomes my moment of meditation."
Making memories and meditating are the primary reasons why this smokin' beauty's undying love affair with cigars escalated from an amorous trist to long-standing matrimony.  
"It's always satisfying to have that late night smoke where you let your mind fly free at the speed of the smoke with no interruptions, and that's where the true connection is," she noted.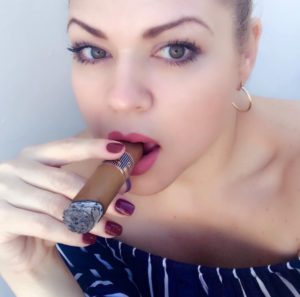 Elizabeth went on to say, "Weekends are my time to smoke as many cigars as I want but I am very selective where I choose to sit and smoke my cigars.  I make each smoke a special one and love to take pictures so I make sure it's the right ambiance around me," she explained. "It can be in total silence at home or at a local cigar lounge, by the ocean, with friends and family, it's always the perfect way to release stress and let worries fly free."
There is no doubt that Elizabeth Borlado is a stunning woman who adds plenty of sex appeal to the cigar industry. Her physical beauty is mesmerizing but her passion for the leaf makes her that much more intriguing.
"Smoking makes an event a more meaningful one where we all express our thoughts about what we are smoking. It has become a lifestyle. It's art and passion," she boasted.
The passion that this lovely lady-of-the-leaf (#LOTL) exudes is second to none as she continues her journey through the enchanted world of cigars.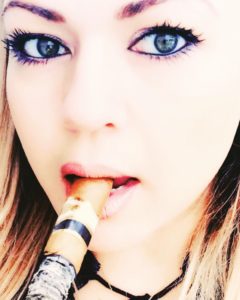 "My dream is to travel to the world and in every stop enjoy a cigar," she announced. "This passion brings cigar lovers and people from around the world together, and to me, that's an incredible experience."
Elizabeth definitely deserves to be this week' Sizzlin' Sunday Cigar Girl. She is gorgeous, loves the leaf and full of passion.
"It's time that more women realize what a true pleasure it is to smoke a cigar"