Meet Donna McCracken, a sizzlin' 51-year -old sister-of-the-leaf (#SOTL) from Orange County, California. Donna, who is best known on Instagram as @Cigarprimadonna, is a gorgeous gal who loves cigars, travel, and whiskey. In fact, she has been smoking cigars for more than half her life.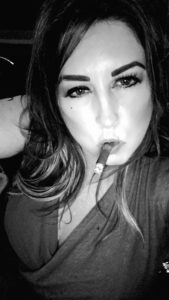 "I tried my first cigar when I was 17 years old," she said.
Today, Donna smokes five to six cigars a week and is a brand ambassador for Traficante Cigar Company, a boutique cigar company that focuses on small batch production.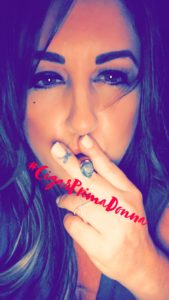 Some of her favorite cigars include Traficante, Oliva, Arturo Fuente and Uppman.  Of course, she likes to pair her smokes with a tasty libation.
"I love bourbon neat or whiskey, but coffee is my favorite in the morning with a lighter blend cigar," she revealed.
There is no doubt that Donna adds plenty of sex appeal to the cigar industry. Her luring eyes and irresistibly sexy face perfectly accentuate a smokin' hot body. She tends to agree with the public's opinion.
"Absolutely I do (adds sex appeal to the industry). I think that most men love the idea that women love to enjoy a cigar, and, if they are attractive I think that's a bonus. It's sexy."
When this smokin' beauty is not immersing herself in the cigar culture, she is busy fighting for the rights of those who don't have much of a voice.
"I am a court reform advocate and a children's rights advocate," she said.
There is no doubt that Donna McCracken deserves to be this week's Sizzlin' Sunday Cigar Girl of the week. She is gorgeous, loves the leaf and stands up for those who often feel powerless.