Meet Debra Castaneda, a sizzlin' 45-year-old sister-of-the-leaf (#SOTL) from Tampa, Florida. Debra is a gorgeous dame who runs a restaurant in the heart of the American cigar trade, Ybor City, Florida. She smokes at least two cigars a week but that number fluctuates depending on the week.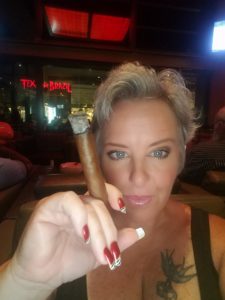 "I love cigars and am currently learning more about them," stated Debra.  "I have been smoking cigars for about four or five years."
The cigar industry and culture runs deep and vast in Ybor City, and Debra was captivated by her surroundings. She eventually succumbed to the amorous aromas and delectable flavors that have seduced hundreds of thousands before her in the historic community.
"Being in Ybor and knowing the history is what sparked my interest in cigars," she confessed. "Smoking cigars is a great way to unwind."
When it comes down to selecting the perfect cigar, this smokin' beauty knows exactly what she likes.
"The fatter the better," she boasted. "My favorite right now is a full-bodied maduro sweet tip. Most of the cigars that I smoke come from Long Ash in Ybor where they hand roll all of their cigars."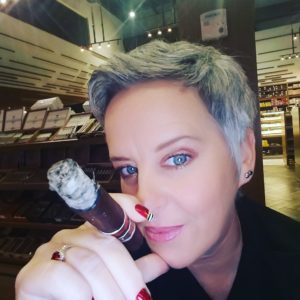 As for choosing the perfect mate to accompany her smokes, Debra usually goes with a port wine.
" I love a good port," she revealed. "All though it does depend on the cigar itself. If it is a strong cigar then probably a bottled water. If it is medium, definitely a port."
However, this lovely lady-of-the-leaf has been known to stray on occasion.
"On occasion I may bum a Scotch from some random guy sitting next to me at Davidoff."
There is no doubt that this tantalizing gal exudes plenty of sex appeal. Her intoxicating eyes can make a grown man beg and the sight of her luscious lips wrapped around a strong, full-bodied stogie leaves plenty to the imagination. However, does she feel the same way?
"HELL yes… There is nothing more satisfying to me then sitting with a cigar in my mouth and a couple walking by and the man looks to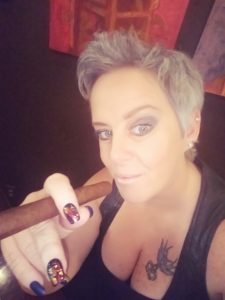 his woman and says, 'Now that is sexy,'" she declared. "I find it even more appealing when a woman knows what she is talking about, as far as cigars go. Hence why I am trying to learn more."
Debra Castaneda definitely deserves to be this week's Sizzlin' Sunday Cigar Girl. She is sexy AF, loves the cigar culture and continues to learn more about the industry.
"I do believe that there are some very strong women that smoke cigars and I suppose that is some of the sex appeal, and that is another reason I continue to smoke," she said. "I consider myself a very strong woman, smart and sexy as Hell. I believe I can have it all. SMOKE 'EM IF YOU GOT 'EM!"