Meet Connie Charles, a sizzlin' 49-year-old married mother of three from Whitehall, Pennsylvania. This dazzling dame and her husband own one of Pennsylvania's premier cigar lounges, G&E Smoke Shop and The Brick and Barrel Lounge in Allentown.
Connie finally entered the enchanted world of cigars seven years ago after many years of pokes and prods from her husband. Her resistance was futile and she finally succumbed to husband's urges.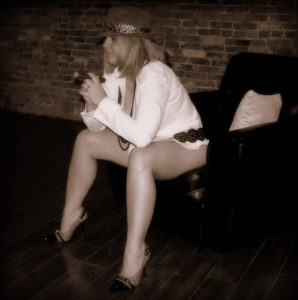 "My husband tried to get me to smoke cigars for years but I resisted. Once I tried my first cigar I realized what I was missing and I was immediately hooked," Connie revealed.
Like many bloomers, this smokin' beauty began her journey with a flavored cigar but quickly realized that traditional cigars offer a much better smoking experience.
"I started with flavored cigars and quickly realized that I prefer a traditional cigar and haven't had a flavored or infused cigar since," Connie noted.
A captivating characteristic that this sexy sister-of-the-leaf (#SOTL) bores is alluring – her palate.
"I enjoy a wide range of flavor profiles from a mild Alec Bradley Connecticut to a medium My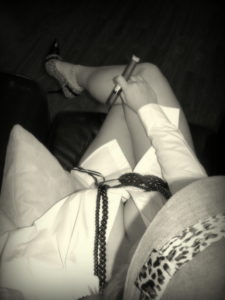 Father Le Bijou, to a full-body Padron 64 Anniversary," explained Connie.
Connie's favorite size stick reveals that she really lusts for flavor.
"I generally smoke a corona or toro size, but I do occasionally enjoy a churchill," she said.
There are certain temptations that cigar enthusiasts cannot resist and Connie is no different. She loves coffee and booze, but her poison varies based on her mood and choice of cigar.
"I enjoy drinking coffee, wine, or rum and coke when smoking a cigar," stated Connie.
There are many women who are now a part of the cigar culture, but few exhibit as much sex appeal as Connie. However, if asked she would humbly disagree.
"I am generally a shy person so I don't think I add sex appeal to the cigar industry but I do think women smoking cigars is sexy," she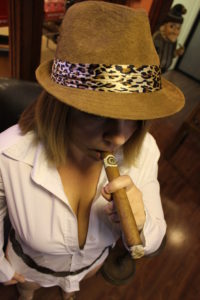 said.
When she is not absorbed in her own lounge, Connie enjoys exploring the cigar scene at other cigar lounges.
"My husband and I enjoy an occasional trip to Doyelstown, PA. to visit JT at Classic Cigar Parlor to enjoy the great people and atmosphere," said Connie. "We also like to stop in and see Kosta who owns Smoke in Manayunk, PA."
Connie definitely deserves to be this week's Sizzlin' Sunday Cigar Girl. Her sexy allure captivates her passion for cigars and  her  love for the culture outreaches that of many others in the industry.
"We have met so many great people in this industry both in our shop and traveling to other shops. I look forward to visiting many more new shops and meeting great people in the coming years," Connie stated.