Meet Christine, a sizzlin' 46-year-old sister-of-the-leaf (#SOTL) from North Carolina. Originally from New York City, this smokin' beauty works as an account manager for a major global background screening company.
Christine has been smoking cigars 'off-and-on" for the past 11 years. She was a cigarette smoker when she first dabbled in the fine art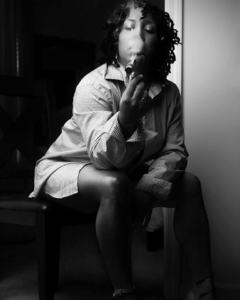 of cigars, but today she is strictly a cigar smoker. She quit smoking cigarettes three years ago.
"I was introduced to cigars by an ex, who thought the sun rose and set on Cubans," expressed Christine. "Now I smoke between five and seven cigars a week."
She went on to say, "I liked the flavors of cigars back then but at the time I was a cigarette smoker so I couldn't appreciate cigars then as much as I do now."
This gorgeous gal's palate has come a long way since her nascence. Today it is refined to that of the most discerning smoker. She enjoys burning many different brands and blends of cigars;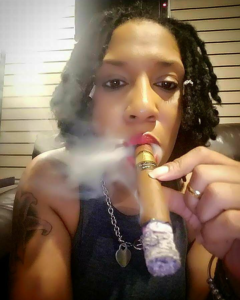 however she does have a few specific plumes of desire with whom she likes to dance.
"My favorite cigars include Black Mamba by DILLGAF, Rock Steady by The Upsetters, Espinosa Crema, and I have recently developed a love affair with Jaime Garcia Reserva," revealed Christine.
 Christine loves the company of a fine drink to pair with her smokes; however, her taste is a bit eclectic.
"My favorite cocktail while out smoking is usually Crown Apple with Cranberry but I have been known to have a Dr. Pepper or Lipton Peach Tea in social settings as well," she explained. "If I'm smoking at home it is usually coffee or hot tea."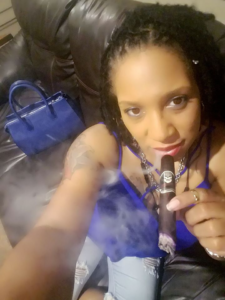 There is no doubt that this smokin' hot gal who loves body building and physical fitness adds plenty of sex appeal to the cigar industry. Her beautiful face, luscious lips and rockin' body attract plenty of attention from the fellas in the lounges.
"There is definitely a level of sex appeal brought to the industry when you pair a sexy woman with a cigar," expressed Christine. "I like to think that I am sexy with my stick or without it"
She went on to say, "A woman who is a cigar smoker is calm, dignified and calculated. She is in a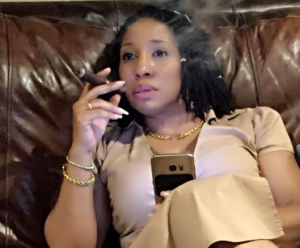 lounge for the peace and camaraderie and her presence is sexy and brilliant and never goes unnoticed."
Christine believes that nothing beats the relationships formed in the smoke; therefore, she spends a lot of time burning in her local lounges.
"My girlfriends have decided to take our love of the leaf into our love for travel and set out to tour as many cities and states to build the bonds this smoke creates," she said. "We have started a Facebook group called 'Smoke in the City' so that we are sure to pop up on some of the people we have met and bonded with virtually through social media."
Christine definitely deserves to be this week's Sizzlin' Sunday Cigar Girl. She is beautiful, ambitious and absolutely loves the leaf and its lifestyle.
"There is nothing that excites me the way a billow dances on my face before being carried off into the atmosphere."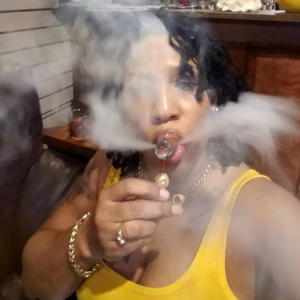 " I wouldn't disrespect the strides women have made in being taken seriously in the cigar community. The goal is to let people know that ladies smoke too."