Meet Carrie, a sizzlin' 44-year-old sister-of-the-leaf (#SOTL) from Las Vegas. Born and raised in Canada, this devilish dame smokes cigars a couple of times a week; however, that number escalates when she is on vacation.
"I smoke daily when on the road and a couple of times a week when at home," Carrie revealed. "We mostly smoke in our backyard or at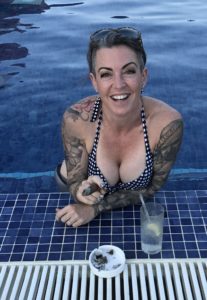 our local B&M, En Fuego."
Carrie started smoking cigars about three years ago because she has clients who smoke and was regularly invited to events to join them. She quickly realized cigars were a great way to bring people together and land business accounts. Now she is hooked on them herself.
"I realized that cigars bought you an hour of time with someone, so I started bringing cigars to industry events to hand out to prospective clients at parties," she admitted. "I won a lot of business that way."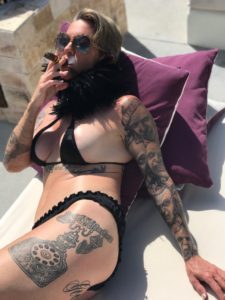 This smokin' beauty began her foray into the enchanted world of cigars like many 'newbies', with mild smokes. However, her palate has been refined drastically during her venture.
"My palate has changed now. I like much stronger profiles unless I'm smoking in the morning."
Carrie travels a lot and her itinerary seems to always include a cigar lounge. She enjoys visiting different cigar lounges around the globe.
"I have found that as a woman travelling alone the cigar lounge is a much less predatory place than a hotel bar," Carrie confessed. "People are very friendly and your background doesn't matter.  Everyone is equal and everyone is welcome."
She went on to say, "I buy a lot of cigars when I'm in different cities, but I travel with a 15-count humidor just in case I can't find a lounge or don't have time to get to one."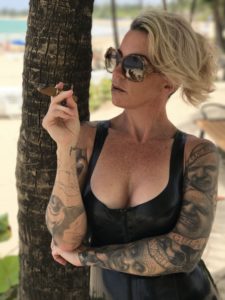 This lovely lady-of-the-leaf (#LOTL) does not have a 'go-to' stick; however, she does prefer small, boutique company cigars. Robusto is her favorite size.
"There's some great stuff out right now that I've been meaning to store but keep smoking – Jeremy Jack for example.  I keep buying them meaning to hold on to them and they all get smoked.  I bought every All Out Kings vitola when they were released. I love those.  The Sans Pareil line is fantastic," Carrie announced.
Carrie doesn't drink alcohol so her usual drinks while smoking are coffee, sparkling water or soda. But, a virgin mojito muddled with chopped up jalapenos is her "favorite drink to enjoy while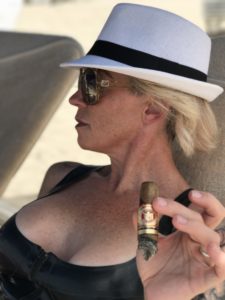 smoking."
There is no doubt that Carrie exudes plenty of sex appeal in the cigar industry. Her rockin' body expressively cloaked in ink is damn near irresistible. And, a robusto locked between her luscious lips is quite appealing. However, this beautiful gal prefers the stimulation of comradery and conversation over pickup lines and sex appeal.
"I find cigars sexy, but smoking cigars alone wouldn't be enough to interest me.  I would hope that men I meet first take an interest in talking to me because I'm smart and funny and interesting and run a successful company," commented Carrie.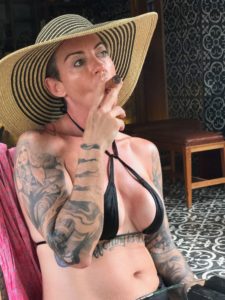 She went on to say, "I think men like women who smoke cigars because they assume women who smoke will enjoy being with men who smoke.  I like the way cigars smell, I enjoy the smell of cigar lounges, I like the way my husband smells after he's been smoking.
There is no doubt that Carrie deserves to be this week's Sizzlin' Sunday Cigar Girl. Her love for the leaf is boundless and her beauty is radiant. Plus, she loves doing what she is doing.
"I know some me have cigar fetishes.  They contact me on Instagram regularly because I post a lot of pictures of me smoking. I don't have a cigar fetish, but I do like the attention and it's flattering. I'm glad people enjoy the pictures, I have fun taking them."