Meet Bernice Underwood, a 49-year-old sizzlin' sister-of-the-leaf (#SOTL) from Delaware. Originally from the Nation's capital, Bernice is more than just a cigar smoker, she owns and operates a small social media marketing company that connects cigar enthusiasts to cigar brands, services and events.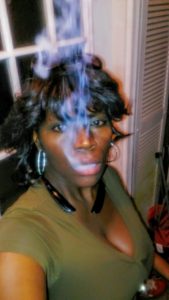 "Cigars, bourbon and my never ending quest for the perfect red wine are my ideas of decadence," she said. "I smoke approximately four cigars a week."
Her journey into the enchanted world of cigars began in 2008 when she was a mere neophyte. Back then, the Montecristo #2 was her stick of choice.
"The aroma had me hooked," she expressed.
Fast forward nine years and the palate of this smokin' beauty has been refined as eloquently as a perfectly matured bottle of her favorite Malbec wine. She tends to gravitate toward full body cigars in the perfecto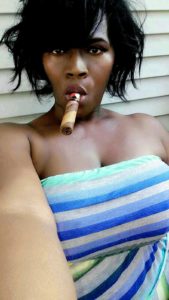 vitola.
"Since I don't have the pleasure of indulging with Cuban cigars often, I thoroughly enjoy the aroma and taste of the Nicaraguan maduro and ligero leaves," Bernice expressed.
She added, "I am constantly learning about this beautiful culture and the powerful connection leaf lovers share."
Like many cigar smokers, this beautiful lady-of-the-leaf (#LOTL) enjoys pairing her smokes with a fine libation. Her poison of choice is usually bourbon; however, a glass of Malbec or Petite Syrah wine fills in nicely as a comforting companion.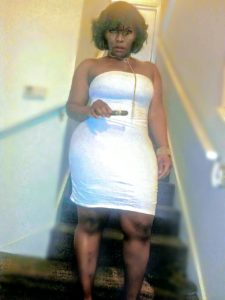 "Bourbon is definitely my first choice to pair with a robust cigar, but a hearty red wine just might be the most overlooked perfect pairing for full-bodied cigars. Malbec or Petite Syrah are my favorites when a change of pace is in order," Bernice revealed.
There is no doubt that this stunning #SOTL brings plenty of sex appeal to the cigar industry. Her rockin' body and alluring facial features make her damn near irresistible. But, her beauty was recognized long before her days in the cigar world.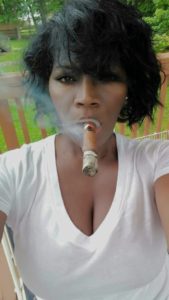 "I've been a sexy woman long before I ever smoked a cigar.  A woman smoking a cigar is in fact the epitome of sex appeal.  The impact of women upon the cigar industry is grand and  immeasurable," boasted Bernice.
Bernice is definitely not bashful when it comes to smoking in public. She loves to frequent her favorite haunts where she feels welcomed and appreciated. Among her favorites are Tobacco Fields in Wilmington, DE, Celebrations on Market Street in Wilmington and Civil Cigar Lounge in Washington, DC.
"Women smoking cigars is not a new trend," she said.  "Long before it was popular and accepted, women have experienced the pleasures of cigars dating back to the 1700's.  I smoke cigars because I enjoy them.  I am drawn to the deep and rich history of cigars."