Meet Beatriz Calis, a sizzlin' 26-year-old Cuban-born sister-of-the-leaf (#SOTL) from Miami, Florida. This smokin' beauty, born and raised in La Habana, Miramar, Cuba, is a professional model and dancer who loves smoking cigars. In fact, her modeling career is what enticed her to start smoking cigars.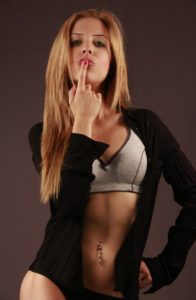 "In Cuba and Milano, Italy, I worked as a model and I remember that one of my first modeling jobs was at the Habano Festival in Cuba when I was 16 years old," explains Beatriz. "And, there at the Habano Festival, I tried my first cigar at 16 years old."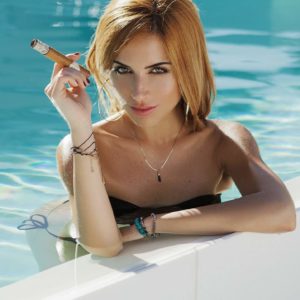 Beatriz may have a deep, long-standing relationship with cigars today, but it definitely did not begin as love at first sight.
"To be honest, I did not like it (smoking cigars) that much in the beginning," she confessed. "But, after a while I fell in love with the smell, the different flavors the history and the experience and memories behind every single cigar we smoke," revealed Beatriz. "It is a lifestyle mixed with elegance, relaxation and sophistication. I started getting more involved and interested."
Beatriz has been very active her entire life. Before moving to the United States about two years ago, she was a contemporary dancer in Cuba where she also studied acting at Cuba's National Art School. After graduating she worked in television, cinema and modeling. Beatriz also worked as a model in Milan, Italy and Madrid, Spain. Today she finds herself dazzling the city of Miami, Florida with her beauty and luster.
Beatriz may not have revealed her favorite cigar but she certainly knows how to pair her smokes.
"My favorite drink with a cigar is usually a good and strong coffee," she proclaimed. "But, that can change depending on what time it is. I could go for a bourbon or a Baileys, too. I love sweet drinks."
There is no question that Beatriz brings plenty of sex appeal to the cigar industry…to the world for that matter. She is a smokin' hot gal whose beauty is intoxicating.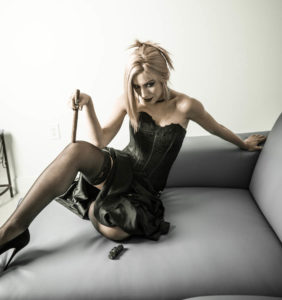 Her body is flawless and her angelic face is highlighted by eyes that can melt even the most fastidious man.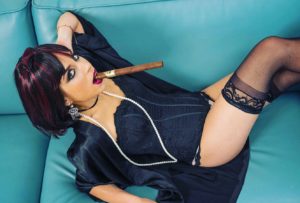 "All women are beautiful and sexy, but the fact that the amount of men that smoke cigars is greater than the amount of women, gives always more sex appeal to the fact that I smoke cigars," Beatriz revealed.  "Men cigar smokers love to see me smoking, but some other guys that don't smoke cigars look at me like I'm a freak."
Beatriz's love for cigars has grown so fondly that she has begun working in the industry. She currently works at Cava Cigars but her resume also includes Sabor Havana and Prime Cigar Bar.
Beatriz Calis definitely deserves to be this week's Sizzlin' Sunday Cigar Girl. She is drop-dead gorgeous, loves the cigar lifestyle and appreciates the culture.
"I'm in love with cigars, the culture and the experiences they provide to people," she professed. "That's why I'm developing my own project that is coming very soon. It has. been taking me a long time and a lot of energy, but it's coming very soon."
Follow Beatriz on Instagam: @beatriz_calis_actriz