Meet Atticca Jones, a sizzlin' 44-year-old sister-of-the-leaf (#SOTL) from Houston, Texas. This dynamic dame loves to dance and smoke cigars.
Attica who is the lead tobacconist and store manager for the International House of Stogies in Missouri City, Texas, smokes about five cigars a week. Her inaugural smokes took place back in 2004 but it wasn't until recent years that Attica rekindled her love for cigars.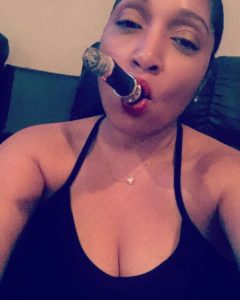 "When my daughters went off to college I had to rediscover my love for cigars," Attica revealed. "I found the perfect boutique cigar lounge close to my house and I fell in love all over again."
Attica's heart melted when she experienced the magic of today's cigar makers. She found the tobacco to be richer and more flavorful than ever before.
"The flavors had evolved so much since my first cigar so I started trying and tasting all types of cigars and realized that there is a cigar for each mood I had," Attica explained. "But, my favorites tend to be from Nicaraguan habano blends and I love robustos.
Right now, you can find an assortment of goodies stacked in Attica's personal humidor.
"Serino Cigar Royale MaduroXX, The Modern Tobacconist Art Flor y Nata, anything Caldwell Co.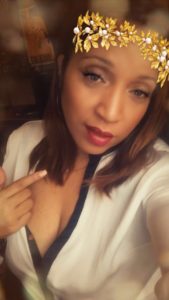 and Sencillo Black No 4 are currently in my humidor."
This devilish dame doesn't like to smoke alone. She loves the company that a fine cocktail provides. She pairs her Nicaraguan robustos with different liquors based on her palate.
"Just like cigars, my drink palate changes as well. But, right now I'm loving a great rum such as Zaya, Pylar and Diplomatico," stated Attica.
There is nothing in this world that drives a man crazier than a woman with sex appeal. Attica is one of those gals. Her lips locked around a cigar drives men wild. However, she is too modest to boast.
"Cigars alone are sexy, nothing else is needed; however, I've been told that my appeal is that I truly love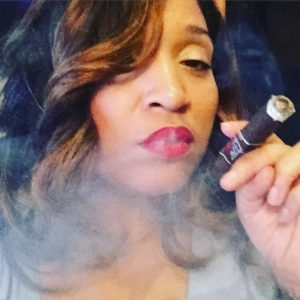 cigars and become lost in the smoke. I don't take attention away from the beauty of the cigar," she said.
If you are in or around Missouri City, Texas don't be shy and stop by and say hello to Attica at International House of Stogies on Highway 6 South. She would love to show you around the place.
There is no doubt that Attica Jones deserves to be this week's Sizzlin' Sunday Cigar Girl. She is certainly a sexy dame who is extremely passionate for the leaf.
"To be a woman in this industry is funny, because most think that I am just a pretty face, but once I talk about the complexity of each cigar in our store they begin to respect my knowledge, and in this male-dominated industry, that's a huge compliment."