Meet Ashley Bridget, a sizzlin' 31-year-old sister-of-the-leaf (#SOTL) from Long Island, NY but raised in New Jersey. Ashley is a dazzling dame with a gorgeous smile, rockin' body, and an unyielding love affair with cigars.  This lady of the leaf loves her cigars and enjoys everything about them – the taste, the aroma, the smoke and the culture that surrounds them.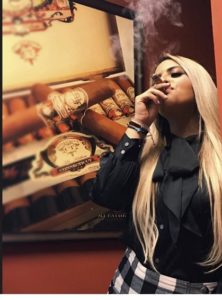 "I wouldn't consider myself an avid cigar smoker but I do love smoking a good stick when I am at work hanging out with the guys. I always loved the smell of cigars and the overall cigar lifestyle," expressed Ashley.
Ashley is a proud Latina (Colombian and Salvadorian) who has been smoking cigars for the past six years. She currently works as a hostess for Matador Cigar Lounge in Massapequa, NY where she delights each patron with her luminous smile and charismatic personality.
"I love being the smiling face that greets patrons when they walk into the lounge after a long day," Ashley stated.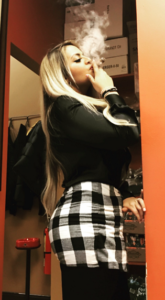 "I love making people feel comfortable and important. I enjoy so many aspects of being a cigar lounge hostess."
Being a cigar hostess, Ashley has hundreds of cigars at her finger tips at any moment so it is hard for
her to narrow down one favorite stick; however, lately she has been enjoying the Arturo Fuente Rosado Gran Reserva. Those cigars are usually paired with either gin or wine.
"I prefer smoother, light to medium, cigars with some sweetness but not necessarily flavored." She announced. "I enjoy drinking Hendricks and the occasional glass of Merlot while smoking a nice stick."
When this smokin' beauty is not running around the lounge making cappuccinos and laughing loudly with patrons, she is in comfortable clothes with her hair up in a ponytail, listening to music and watching horror movies. She also dedicates much of her time as a child advocate. 

There is no doubt that Ashley offers plenty of sex appeal to the cigar world. Her gorgeous face, illuminating smile and intoxicating figure can drive any man crazy with desire. However, she is too humble to realize just how alluring she is.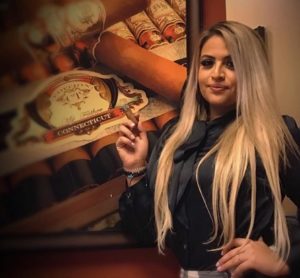 "I will never and have never been a woman who thinks that she is the shiniest penny, but I can say that I accept who I am, flaws and all," Ashley revealed. "I own it 100 percent and I think that in itself is extremely captivating and sexy. I am a bit of a 'girly girl' but I have always been a bit of a 'tom boy', too."
Ashley undoubtedly deserves to be this week's Sizzlin' Sunday Cigar Girl. She is a beautiful, intelligent gal who loves to smoke cigars and appreciates the culture that surrounds the leaf.
"I don't often smoke cigars alone as I associate the experience as the best part of the cigar world – socializing and getting to interact with others."