Meet AnnMargaret, a sizzlin' 52-year-old sister-of-the-leaf (#SOTL) from Houston, Texas. Margaret is a 25-year law enforcement professional who is transitioning into starting her own stress management coaching and consulting business.
 This gorgeous gal has been smoking cigars since 1997, but usually limits her smoking experiences to social settings.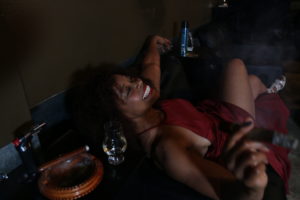 "I smoke cigars at most social settings and I usually don't smoke alone," expressed AnnMargaret. "I always have a stick in my purse just in case."
 Her palate wasn't completely finessed until a superior of hers offered her a taste of the industry's forbidden fruit.
"I was introduced to my first real Cuban cigar by my Cuban-born police lieutenant," revealed AnnMargaret. "They don't make them like they used to."
 Like many cigar smokers, this smokin' beauty's list of favorite cigars is fickle; however, Nicaraguan blends usually top the chart.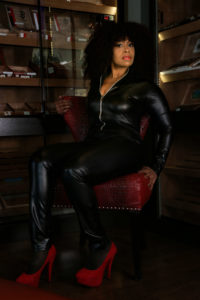 "My favorite cigar at the moment is the Plasencia Alma Fuerte as I am partial to the Nicaraguan cigars," stated AnnMargaret.
 Big ring gauge sticks are a must for this devilish dame.
 "I like a larger gauge cigar, 54 and up. I like one that is a slow burner so the aromas and true flavors can be enjoyed," confessed AnnMargaret. "This combination allows me to savor the conversation as well as the cigar. It's a win, win"
 One of AnnMargaret's favorite drinks to pair with her smokes is Scotch whiskey; however, she can pair a cigar with just about anything, especially libations make in Texas.
 "I really love peated single malt Scotches, such as Laphroaig or Octomore," she said. "But really, I can pair a cigar with anything from a Texas wine to a Texas vodka, to a Texas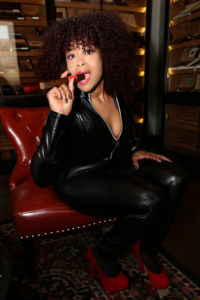 whisky, to a Texas beer, or even a Texas cream soda."
 There is no doubt that this southern belle adds plenty of sex appeal to the cigar industry. Her rockin' body, sultry lips and inviting eyes are irresistible. Plus, the tin she bears ramps up her allure tenfold.
 "I have been smoking cigars for 20 years…I love being a woman and I love smoking cigars…if that happens to fall into a category of sex appeal, then I am okay with that. I am just being myself," she expressed.
Houston is a very cigar friendly city harboring some of the most discerning smokers in the industry, and Texas is lucky to have borne such a stunning #SOTL. AnnMargaret frequents several Houston haunts with Stogies World Class Cigars, Cigar Store and Lounge by CDOT, International House of Stogies and Cigar Time of Katy being some of her favorites.
 There is no doubt that AnnMargaret deserves to be this week's Sizzlin' Sunday Cigar Girl, and final feature of 2017. She is a gorgeous gal whose profession is dedicated to the safety of the great  people of Texas and her adoration for the leaf is to be commended.
 "The cigar lifestyle or industry is so vast and that's what I love about it. I'm never bored when cigars are involved."