Meet Annie, a sizzlin' 25-year-old sister-of-the-leaf (#SOTL) from Texas. Annie is an outdoor enthusiast who loves everything from photography and fitness to hiking, biking and camping. She has been smoking for the past seven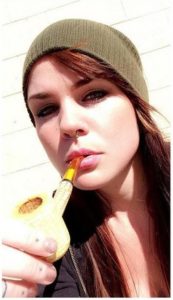 years.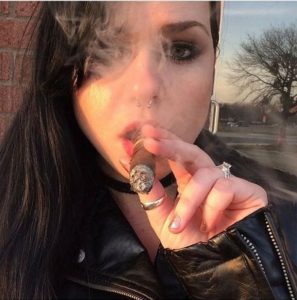 "I have been smoking since I was 18," she revealed. "I started smoking a pipe but gradually started smoking cigars. I never smoked cigarettes."
 This smokin' beauty typically smokes while going on long walks, but does frequent cigar lounges on occasion. She prefers flavored and infused cigars over the traditional cigar.
 "I love Acid by Drew Estate and Tatiana cigars best, but enjoy many others as well," she expressed.
 Annie's drink of choice when smoking is coffee.
 "I am a coffee addict and it is my choice of drink to pair with my smokes," she said.
 There is no doubt that Annie drips with sex appeal. Her inviting eyes and luscious lips locked around a cigar are intoxicating. Plus, the nose ring adds to her allure. She is definitely a welcomed treat to the cigar industry.
Follow Annie on Instagram: @cigar_smokin_lady