Meet Anita, a 37-year-old sizzlin' sister-of-the-leaf (#SOTL) from the DM (D.C., Maryland, Virginia area). Anita, affectionately known as Anita_Lashun on Instagram is a gorgeous mom and cake decorator who has fallen in love with cigars.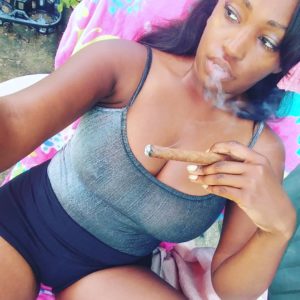 "I have been enjoying cigars for the past three years now, but the past six months I have been trying to learn everything I can so that I'm not just smoking a cigar to look cool but actually enjoying and knowing what I'm smoking," expressed Anita.
Anita, who also moonlights as a singer and model, tries to smoke a cigar every evening to relax but when her weeks get too hectic, she has to settle for three to four sticks that week.
This gorgeous gal enjoys smoking a variety of cigar; however, she does have a few favorites.
"My favorite brand has to be Drew Estate and their Fat Bottom Bettys," she boasted. "The Java Latte along with NUB pumpkin spice are also good. But, I recently discovered Trader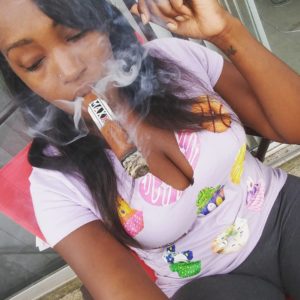 Jacks and it's the bee's knees to me right now. It's rum dipped, semi-sweet, but yet bold. I love it."
Those smokes often get paired with a fine adult beverage.
"Normally I'm a wine kinda gal, but someone put me on to Paul Masson Peach and that has been my go-to for now. I'm always up for trying new things though," she revealed. 
Anita is a very attractive woman who exudes plenty of sex appeal, especially when coupled with a fine cigar. Her gorgeous face, smokin' hot body and luscious lips paint the most extravagant portrait of perfection.
"I just see myself as a woman who enjoys cigars and I just so happen to be attractive," Anita shared. "I think I'm learning to accept what others are saying, but in the humblest way possible."
Anita doesn't frequent cigar lounges so chances of running into her are slim to none. It is the sanctity of her home that she adores.
"Believe it or not I have not been to a cigar lounge," she confessed. "I sit on my back porch with my music, drink and cigar. It's not about where you are, but about enjoying the cigar."
Anita definitely deserves to be this week's Sizzlin' Sunday Cigar Girl. She is a smokin' hot beauty who has an unyielding thirst for the cigar industry.
"I'm just Anita – a woman who has a passion to learn more about what I enjoy."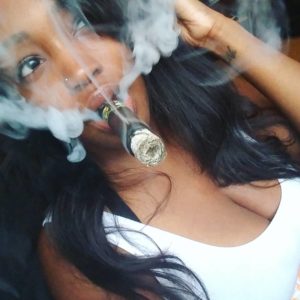 Remember to follow Anita on Instgram @anita_lashun