Meet Alexis Kendra, a sizzlin' sister-of-the-leaf (#SOTL) from Chicago, Illinois. Now living in Los Angeles, CA, this smokin' hot screenwriter has been smoking cigars for the past ten years. Her love affair with the leaf began shortly after moving to "The City of Angels."
"I remember being really busy, running around the city, not having much time to myself," explained Alexis. "I do remember having a cigar and was instantly calmed. It was undeniably beautiful and amazing."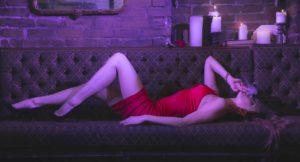 Like most cigar enthusiasts, Alexis doesn't have a favorite cigar or favorite size; however, she does find herself gravitating toward shorter, somewhat thinner ring gauges because she feels "There is more flavor."
"I am also drawn to Cubans, but love all cigars really," Alexis announced. "My favorite cigar of the moment is the Cohiba Esplendidos that has been aged seven years. It is without question a life changing cigar. The hints of vanilla and mocha literally make my mouth water. I also enjoy the El Septimo, Dream Topaz and White Exception"
This smokin' beauty loves the brown spirits. She enjoys smoking cigars with whisky, bourbon, Scotch or cognac.
"When I drink with a cigar I find that I take the smallest sips between draws," Alexis said. "My go to drinks are Gran Marnier and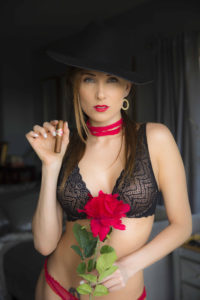 Master Blender's Hennessy. Similar to cigars, I know there is a whole whisky world out there that I haven't quite tapped into yet."
There is no doubt that Alexis adds plenty of sex appeal to the cigar industry. She is absolutely breath taking. Her flawless body, gorgeous face and luring eyes are exhilarating and intoxicating to say the least. However, Alexis is too humble to boast.
"To me, the act of smoking a cigar is just undeniably sexy," Alexis revealed. "With the photos that I take on IG, I am trying to encapsulate everything that I believe a cigar is, and cigar is to be respected."
Her appreciation for the leaf goes well beyond a picture.
"Thinking of Cuba and the men who spent all day with their hands in the mud, sweating for hours to hand roll a cigar so we can enjoy an hour smoke is just incredible, magical even. I really cherish every second of the cigar…It can be a religious experience for some."
Men are not the only ones with their eyes on the prize.
"When I see a well-dressed man, with a nice watch on, and spicy cologne, I'm moved and in awe of his elegance. And it leaves me feeling inspired and excited," Alexis confessed.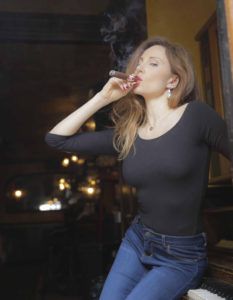 Alexis loves to frequent cigar lounges. A couple of her favorite haunts are the V Cut on Melrose and Buena Vista Cigar Club in Beverly Hills.
"V Cut feels like a second home to me. One of the owners, Ahmed, takes customer service to another level and has really enhanced my cigar experience," she said.
"The Buena Vista Cigar Club in Beverly Hills is dark and quiet. The ambiance, décor, and aesthetics are absolutely on par with what you would imagine a perfect bar to look and feel like."
Alexis definitely deserves to be this week's Sizzlin' Sunday Cigar Girl. She is an absolutely stunning woman who loves smoking cigars.
"Simply put: I want to inspire people to smoke great cigars because life is just better that way."
You can follow Alexis on Instagram @cigar_aficionada and on Twitter @cigaraficianada.