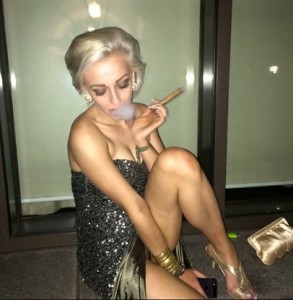 Meet Eva Tatiana Rowan, a 21-year-old sizzlin' sister-of-the-leaf (#sotl) from Dublin, Ireland. She is an international performer who loves the finer things in life, including cigars, art and music.
"I smoke cigars every few weeks," said Eva. "The occasional cigar is beautiful to appreciate. I mainly smoke them on a fancy night out or while I am travelling Europe."
Eva is an adventure seeking globetrotter who travels the world singing, acting and dancing – hula hoop dancing being her specialty for the past five years.
"Currently I am performing between three to five times a week at club nights and circus nights in Dublin and performing on stage with international DJs to huge crowds with my amazing hooping partner Hannah," boasted Eva. "It is the best job and life I could ever imagine. It is my passion."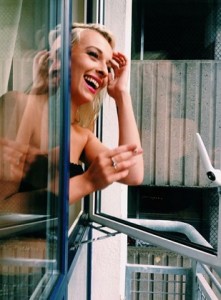 This dazzling dancer smoked her first cigar about three years ago when she tried a flavored stick. Today she loves Cuban and Egyptian cigars paired with a cocktail or spiced rum.
"I once smoked a six pack of vanilla cigars in one day, gross I know but they were too good," confessed Eva.
It is a shame that Dublin doesn't house many cigar lounges because this smokin' beauty would be the perfect guest. Her gorgeous face, killer body, and cultured persona would be a welcomed treat.
"There are not many cigar lounges in Dublin. Cigars aren't highly popular," explained Eva. "But, I have been to beautiful cigar shops in Paris and Barcelona. In Dublin I smoke in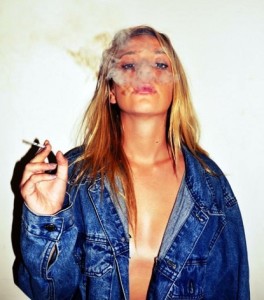 bars, balls, restaurants or lying in the sun at home."
How many men wouldn't kill to see Eva lying in the sun smoking a cigar? She is already dripping with sex appeal, so add a cigar to the mix and that is one highly combustible combination.
"Well beauty is in the eye of the beholder and if a fellow cigar smoker finds me attractive and sees me smoking a cigar, then yes, of course it adds some sex appeal to the industry. But, I don't see myself that way. I think I am just a normal girl smoking a cigar," Eva expressed.
There is no doubt that Eva deserves to be this week's Sizzlin' Sunday Cigar Babe. She is a gorgeous performer with a rockin' body who is living her dream. And, when not on stage she likes to unwind with a smoke.
"I smoke cigarettes and cigars. It keeps me together especially with a good coffee in the morning."
Keep your eyes out for Eva and Hannah because the dancing duo will be coming to the States next year and they will be looking for a quality cigar lounge in which to kick back while on tour.