HER MISSION WAS TOP-SECRET – HER PLAN WAS FLAWLESS
"Why I Created Freyja"
"I wanted to make sure that my cigar would fit into our company, Las Cumbres Tabaco. Freyja (Nordic goddess) and Senorial (Lordly) fit each other perfectly with our company name, 'The Summits of Tobacco' – translated from Spanish to English," expressed Viktorsson.
Despite growing up around tobacco as the daughter of an international executive for Swedish Match, Emma Viktorsson never dreamed of blending her own cigar. In fact, Jose Blanco was a twinkle in her eye long before the idea of creating her own blend.
"The idea (blending) was never in my mind," said Viktorsson. "I have extreme respect for the real cigar legends, the master blenders, and I have been so lucky as to have had been tutored with names like Daniel Nunez, Modesta Fondeur, Ernesto Perez Carrillo, Benji Menendez and Jose Blanco."
Nevertheless, Viktorsson, with more than 10 years formally employed in the premium cigar industry and after plenty of prodding,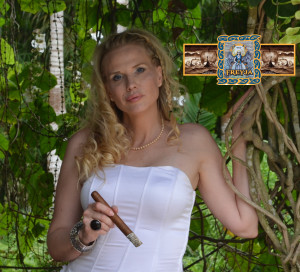 prompting and poking from industry experts, decided it was time to let loose and become the face of a brand. Freyja has become that brand.
Viktorsson spent years playfully disregarding the queries of those who wanted her to be the face of a brand, saying, "Why me? Who am I?"
"Last year some people asked me seriously about doing something…My mind started thinking about it…I researched the market and decided that yes, I can and I'm ready," explained Viktorsson. "But, I will blend it without influence from Jose or Jochy Blanco."
But, the thought remained in the back of her mind as she continued to guide Las Cumbres Tabaco through its infancy.
"I was completely honest. Their questions merely opened my mind," Viktorsson confessed. "Then, one day, impulsive as I often am, thought to myself, 'I will make a brand but only if I can blend it. I didn't tell Jose yet."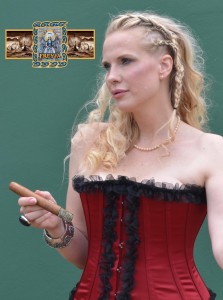 Viktorsson originally had two blend options in mind. So, in secret, she took her blending notes straight to Tabacalera Palma's production manager, Geraldito Perez, who loved them but knew they needed a little tweaking. That is when she finally fest up and told Jose and Jochy about her clandestine mission.
"Until it was time to smoke, I didn't include Jose or Jochy in my blend for two reasons," Viktorsson explained. "I did not want a brand in my name to be a 'Jose Blanco' or a 'Jochy Blanco blend', but most of all I now felt ready to blend and wanted to see what would 'Emma's blend' be?"
The production manager and Viktorsson tweaked the blend a good 10 times over the course of four months before Freyja was born.
"My choice of wrapper and binder, which immediately was a hit, was clear but the filler was tweaked a lot of times. Many filler pure-grades were smoked," Viktorsson stated.
She went on to say, "If Geraldito would have said, 'You can't blend yet.' I would not have done this. I value my work and I value my professional history. From this love and passion for what I do, my brand had to be worked on hard by myself or I would not have been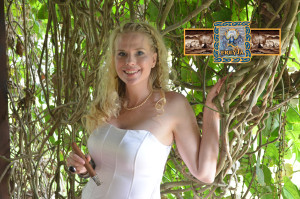 satisfied with myself."
The blend, name and art work of Freyja pays homage to Emma Viktorsson's Scandinavian roots, fascination with Vikings and strong ties to the tobacco and premium cigar industry.
"It was not even a dream, it was beyond a dream – It truly became a dream the day I decided to make Freyja," Viktorsson stated. "At the end, my high demands of myself, together with how humble and honest I am was what made me come out with my cigar at the right time, not one day before I was ready."