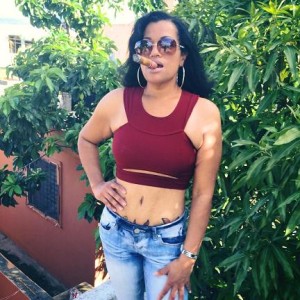 Meet Denise Morales, a 42-year-old professional woman who is as intelligent as she is beautiful. This devilish dame is a highly educated lady of the leaf who was born and raised in New York. She holds an undergraduate degree in psychology and a dual Masters Degree in education. She is a social worker in Suffolk County, New York and plans to pursue a doctorate in child psychology to open a private practice.
Even though Denise is a new-comer to the world of cigars, she has learned to appreciate the good life.
"I've only been smoking cigars consistently within the past year," said Denise. "However, I have been exposed to cigars for years by my sister and mother who are avid cigar smokers."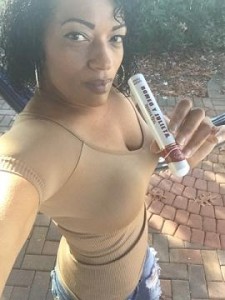 Most cigar smokers appreciate the peaceful alone time that cigars bring them and Denise is no different. She started smoking cigars as a way to "relax and unwind" at the end of a stressful week at work, but today she finds herself fully submerged in the culture, smoking at least once a day.
"Initially, I would smoke a cigar after a long week to relax and unwind, coupled with a glass of cognac. Nowadays, I look forward to having a good smoke just about every evening," said Denise. "I may even indulge during the day on my lunch hour if time permits."
As a novice, she surrounded herself with people who had years of experience and knowledge in the cigar industry.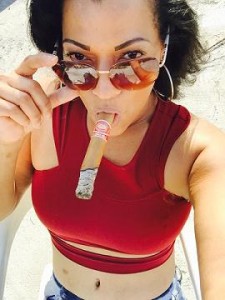 She credits those individuals for capturing her interest in smoking cigars. Denise also enjoys meeting interesting people from different avenues of life.
"Meeting very interesting people from all walks of life is what has drawn me to embrace the lifestyle and become fascinated with cigars," explained Denise.
There is no doubt that Denise brings plenty of sex appeal to the cigar industry with her fashionable sense of style, sultry lips and killer body. Pair all that with her adoration for cigars, and you have one irresistible hottie bathed in perfection.
"I feel blessed to get so much positive feedback on something I love to do. I'm not a model of any sort, just merely a real woman who enjoys smoking cigars," boasted Denise. "I do consider myself to be a sensual woman in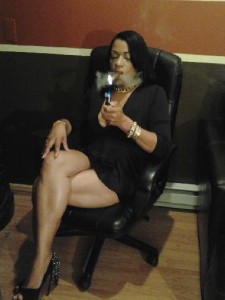 tune with her sexuality, and have been told that this is evident while smoking a cigar.  With that said I would have to say yes, I do add sex appeal to the predominately male cigar industry."
Denise prefers to smoke cigars in the comfort of her own home, but has been spotted in a few cigar lounges in and ar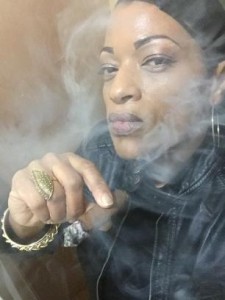 ound the New York area.
"I have patronized a few cigar lounges (in and out of state) with friends and I found the atmosphere in some of the lounges to be quite comfortable and intimate.  Slow Burns Cigar Shoppe and Smoking Lounge in Cantonsville, MD for example, are filled with great atmosphere and great people," she noted.
Denise went on to say, "There are a number of lounges in NYC that have gotten great reviews that I am looking forward to visiting. The Cigar Inn and Club Macanudo are two lounges that are on the top of my list."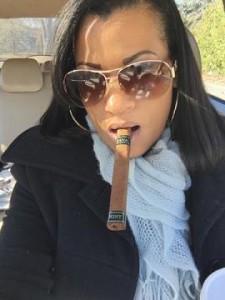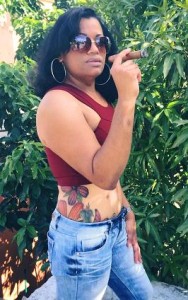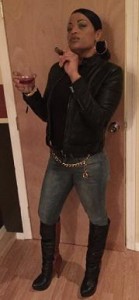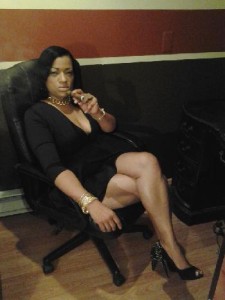 "I do consider myself to be a sensual woman in tune with her sexuality, and have been told that this is evident while smoking a cigar."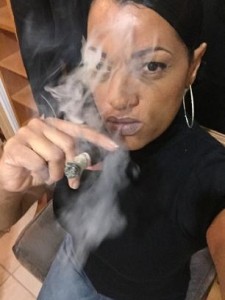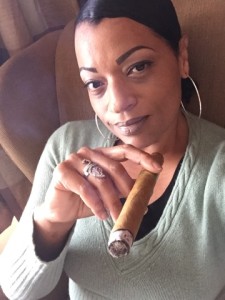 "I would have to say yes, I do add sex appeal to the predominately male cigar industry."