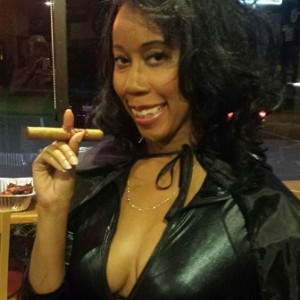 Meet Demeka Fritts, a Sizzlin' 36-year-old sister-of-the-leaf (#SOTL) from Nashville, Tennessee. This gorgeous southern bell is a former fashion model who has been smoking cigars for the past five years. Today, she smokes an average of three to four times a week.
"I actually naturally gravitated toward the leaf. Some of my male friends were cigar enthusiasts and that peaked my interest enough to try a stogie for myself," explained Demeka.
Demeka, who has worked in the medical field for the past 12 years, has trouble pinpointing one particular cigar as her favorite. However, she does have a few go-to sticks that she rates quite highly.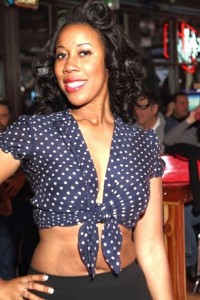 "I don't have one favorite cigar; I have a top five of favorite cigars," boasted Demeka. "They are, listed in no particular order, CAO Amazon Basin, Arturo Fuente Anejo #77 (Shark), Tatuaje Cojonu 2012 Maduro Toro, Fuente Fuente Perfecxion X  and Principle Cigars- Special Edition KBF Churchill."
Like her cigar selection, her drink pairings are no joke. Demeka is a whiskey girl at heart who loves to drink Jack Daniels (neat).  However, she does stray from her beloved Jack from time to time.
"My palate with libations is just about as wide as my taste for cigars," Demeka shared. "I am normally a Jack Daniels (Neat) drinker. Depending on the notes that I pick up from each cigar that I smoke, I am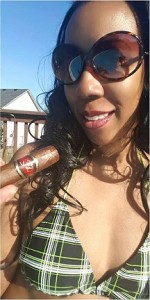 subject to deviate from Jack."
You may be asking yourself, 'When and why in the world would she ever cheat on Jack? He is a man who treats her so right.'
"For example, when smoking the Nat Sherman Epoca, my palate picks up notes of graham crackers and cinnamon, I would drink a glass of Zaya with that stick," she confessed. "I generally try to pair each type of cigar with a certain drink. The milder the flavor, the sweeter the drink.  I don't ever want the drink to overpower the flavors of the cigar."
Cigar shops in middle Tennessee are extremely lucky to call Demeka a patron. She loves to frequent cigar lounges, especially Battleground Smokes and Spirits.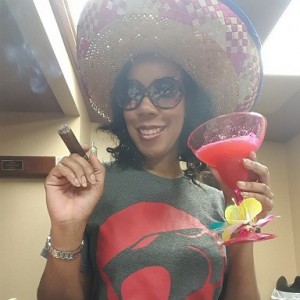 "Battleground is like no other lounge here in Middle Tennessee and it was named Cigar Aficionado's editor's pick for 'Where to smoke' for Tennessee. The owners are great and the staff is super friendly," Dameka said.
Battleground Smokes and Spirits is a unique cigar lounge with a full bar and a vast array of cigars in the humidor, but what really sets them apart from the competition is their zest for live entertainment.
"They offer live entertainment like music and comedy and all kinds of sports," explained Demeka.  "They bring local artists in to play from The Council to Boom Boom Pow. And, nationally recognized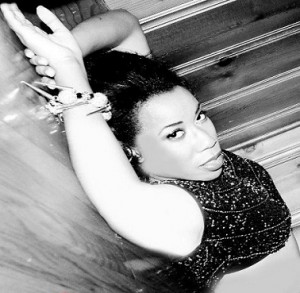 artists like Stacy Mitchhart and T.C. Cope perform as well."
Demeka, who drives about 30 minutes four times a week to visit Battlegrounds believes the trek is worth it because, "The atmosphere that Battleground provides is the epitome of what every cigar smoker looks for in a lounge."
This smokin' beauty is as hot as the glowing ash on her cigar. She is an amorous flame who brings plenty of sex appeal to the cigar industry. However, Demeka skated around the question when asked about the level of sex appeal that she thinks she offers.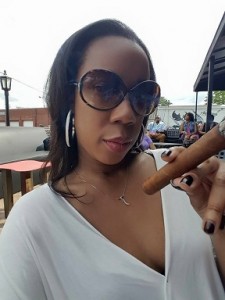 "Many people are not use to the idea of women smoking cigars. And when a man sees me smoking a cigar (outside of the cigar shops) they become very intrigued," Demeka remarked. "I spoke with a celebrity last month during his appearance here in Nashville and I asked him what his favorite cigar was… He looked up at me and said, 'You smoke cigars?' And to that I said with a straight face, 'Yes, I do. I just don't look like it.' So the answer is Yes."
There is no doubt that Demeka Fritts deserves to be this week's Sizzlin' Sunday Cigar Babe. Her rockin' body, adorable face and passion for cigars are hard to deny. To learn more about Demeka follow her on Instagram @nicety79