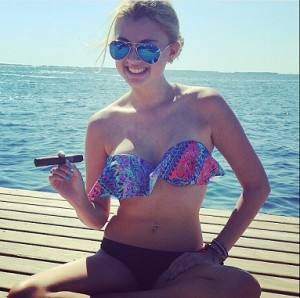 Meet Danielle, a Sizzlin' 20-year-old sister-of-the-leaf (#SOTL) from Miami, Florida.  This smokin' hottie is a part-time model who absolutely loves smoking cigars.
"I am a cigar enthusiast. I love, love, love smoking cigars. I have been smoking since I was 18 years old," boasted Danielle.
When she is not modeling, Danielle spends much of her time at Caribbean Cigars where she works as  south Florida's sexiest tobacconist.
"I was a client of Caribbean Cigars before I became and employee," explained Danielle." They were looking for someone who had a love for the industry and someone who was willing to learn more. Who better for the job than me?"
Danielle picked up cigar smoking from the patriarchs of her family. For most of her childhood, she witnessed her father and grandfather sharing special moments over a cigar.  She remembers trailing amorous chains of cigar smoke that would always lead to her father and grandfather reveling in the merriment of a cigar. But, things changed when she reached the legal age to purchase tobacco for herself.
"Some of my earliest memories are of my father and grandfather lighting a cigar, having the delicious smell fill our home while they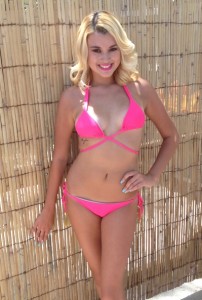 drank coffee and talked for hours," Danielle revealed.  "Now that I'm older me and my boyfriend light a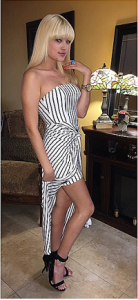 cigar on a Friday night and talk for hours."
Today, Danielle follows in the footsteps of her kinsmen and pairs her smokes with coffee as well.
"There is nothing more that I enjoy than a hot Cuban coffee and a delicious cigar; it's a Miami staple," she explained.
Danielle does not have a favorite cigar. She believes that stems from the cigar shop in which she works.
"At our shop we have an eclectic selection of cigars including boutique and hard to find brands. I have been fortunate enough to sample many of these cigars. You can say my palate is as eclectic as the shop I work at," Danielle responded.
There is no doubt that Danielle is a pleasant treat for the men who frequent Caribbean Cigars. She brings plenty of sex appeal to an otherwise male-dominated industry.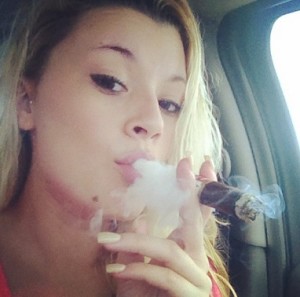 "Personally I think women in general add a sex appeal to the industry. Truth is, real women smoke cigars and we, #sotls, are very beautiful, unique creatures," said Danielle. "Finding a beautiful woman smoking a cigar is an erotic sight."
She went on to say, "When men come into the shop and see me smoking, I get one of two comments: 'you are so young and a woman you need to stop smoking!.' Or 'You smoke cigars? That's awesome. I wish more women would.'
Danielle undoubtedly deserves to be this week's Sizzlin' Sunday Cigar Babe. She is knowledgeable about the industry, passionate about what she does and drop-dead gorgeous.
"One of my favorite things to do after a long show or photo shoot is to head off to home base (Caribbean cigars), sit with the boys, play some dominoes, and enjoy and nice cigar."
Follow Danielle on Instagram: @daniellemd22